10 Artifacts from the Era of the Record Store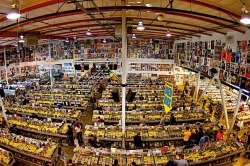 It's no secret that bricks-and-mortar music retailers are going through tough times. As CD sales continue to slide and as the DVD looks like it's out of breath, record stores are having to reinvent themselves.
Naturally, some people (like me) are going nostalgic for the glory days of record store shopping–which, when you think about it, wasn't all that long ago. Here are some things worth remembering.
(1) Separate sections for vinyl, CDs and pre-recorded cassettes: People have forgotten that in the years after the introduction of the Sony Walkman in 1979 that pre-recorded cassettes were briefly the best-selling format for albums. In the middle 80s, if you couldn't find that album on one format, you merely had to walk over to one of these other sections. Chances are it would be there.
(2) Specialty sections for MiniDisc and DAT albums: They were small and only a few stores had them, but if you really wanted an album on one of these formats, you could get it.
(3) The longbox: This was awful. Retailers initially resisted stocking compact discs because they had spent millions and millions of dollars on shelving displays for both vinyl and cassettes. Now the labels wanted an even greater investment? A compromise was reached in the form of the "longbox," a wasteful bit of paper and/or plastic packaging that was about as wide as a CD but 12 inches long. This meant two rows of CDs could occupy the same bin space as one row of albums.
The worst longbox packages were the all-plastic heat-sealed ones that required industrial tinsnips to open. I can tell you the number of times I almost lost a finger trying to get at the CD I just bought. Fortunately, the longbox was protested out of existence within several years.
(4) Midnight Record Sales: In the days before the Internet, the only way to be the first on your block to get a new album from your favourite group was to line up outside the record store on the day that the album came out. If the album was big enough, stores would stay open past midnight and at 12:01am on the release day, they'd let everyone in to buy the record. And yes, this was quite common. Seems quaint now, doesn't it?
(5) The 45 section: My sister took organ lessons every Tuesday in the city. I didn't want to sit through all that so my mom dropped me off at the nearest mall where I'd spend the hour browsing through the Sam the Record Man. I couldn't afford full albums–they were $5.99, fer crissakes!–but I could afford a 99 cent 45. This store had rows and rows and rows of them. I clearly remember buying Devo's version of "(I Can't Get No) Satisfaction" this way and being very, very confused when I got it home.
(6) The big record catalogue: Somewhere in these old record stores was a giant catalogue of available albums and singles across all genres. Generally it was clamped to a heavy stand somewhere that the clerks could make sure that no one was ripping out pages. This is where one would look to see if a record that wasn't in stock was even available. If it was, it would be listed and you'd order it by its catalogue number. If you were lucky, you'd have the record in a couple of weeks. Again, that sounds so quaint, doesn't it?
(7) Loyalty programs: Once upon a time, HMV had a loyalty program. Buy X number of CDs and you'd get X number free. Oh, and they exchanged CDs, too. Naturally, the Internet killed both.
(8) Autograph sessions: If a band came through town promoting a new album, their label might arrange for an autograph session at a major record store. These still happen, but not nearly as much as they used to.
(9) Crazy sales: Ever line up for Sam the Record Man's post-Christmas sale so you could spend the money you got from your aunt? I did. Another favourite of mine was the Rocktober event at a chain called Crazy Kelly's in Winnipeg. Just about the entire store was on sale. Much tuition money was left there.
(10) Buying phonograph needles and cartridges: What better place to buy replacement needles and cartridges from the place where you bought records?
Any other things you remember from those Olden Days?