11 Record Stores I Have Known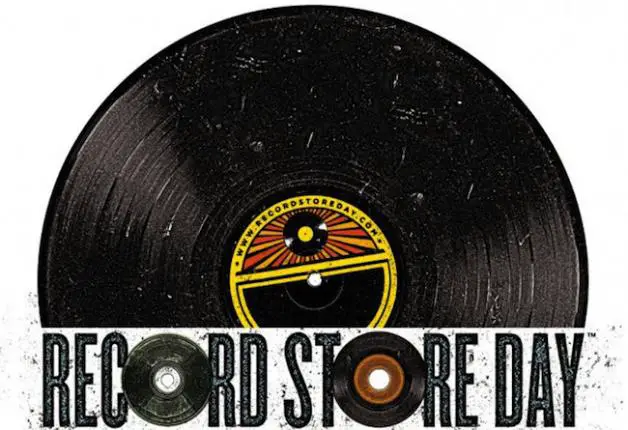 Today being Record Store Day, I was thinking about some of the shops where I've dropped a lot of dosh over the years.
1. Demin and Disc, Stonewall, Manitoba (Closed): I couldn't believe my luck when the new strip mall in my tiny town included a store that sold both jeans and records. That meant I no longer had to buy my records at the Rexall Drug Store or Irene Pearson's furniture store. Prices were a little higher than in Winnipeg, but you couldn't beat the convenience.
2. Crazy Kelly's, Winnipeg (Closed): I spent many, many hours in the downtown store, especially during Rocktober, their annual October sales event. It's also where I lined up to get my first-ever rock star autograph. I stood in line to have Bob Geldof (then of the Boomtown Rats) sign my copy of Tonic for the Troops. I still have that album; in fact I had Bob re-autograph a couple of years ago.
3. Autumn Stone, Winnipeg (Closed): Another downtown hangout. They used to play freaky stuff on the store stereo like Oxygene from Jean-Michel Jarre and Radio-Activity by Kraftwerk, These were my first bits of exposure to electronic music.
4. Sam the Record Man, Winnipeg (Closed): There were several locations in the city, but the two I frequented the most were the ones in the Garden City Shopping Centre (where I first heard tracks from Fleetwood Mac's Rumours) and the Unicity Mall (where I bought a Devo record on a bet.) This is where my mom would dump me once a week when she took my sister for organ lessons.
5. Record Peddlar, Carlton Street Location, Toronto (Closed): THE source for imports. After you made your selections, you were critiqued by the guy at the checkout. As he flipped through your records, the commentary would go something like this: "Shit. Shit. Shit. Shit. Not bad. Shit. Are you sure? Shit. Good. Good. Shit. Shit. Shit. You still want all these?"
6. HMV, 333 Yonge, Toronto: When the superstore first opened, people bought so much stuff that HMV had to introduce shopping baskets for customers. I have no idea how many "buy 10 get 1 free" loyalty cards I filled up. And believe it or not, the store once had a no-hassle returns policy.
7. Soundscapes, Toronto: Still a must-visit whenever I'm in Little Italy. Great selections of box sets and books.
8. Rough Trade East, London: Great selection, knowledgeable staff, funky vibe, awesome in-store appearances. I never miss a chance to go when I'm in the UK.
9. Amoeba Records, Hollywood: A giant warehouse of a store featuring new and used CDs and vinyl plus all kinds of memorablia and accessories. Beware all ye who enter.
10. Backstage Music, St. Bart's, FWI: A tiny, tiny shop that used to be loaded with interesting, er, unofficial CDs from labels like KTS. But with the Internet killing off the market for bootleg CDs, the selection isn't what it used to be. Still, it's a great spot to shop for European box sets and chill-out discs.
11. Transylvania Records, Moscow: Hidden in a court off Tverskaya, the main road that leads right into Red Square and the Kremlin. No one speaks English, but it's unnecessary thanks to the universal language of the Record Shop Junkie. Go for the metal but stay for everything else.
What are your favourite haunts?