11 Ways to Have an Awesome Time at a Concert (And Four Bonus Notes from Me)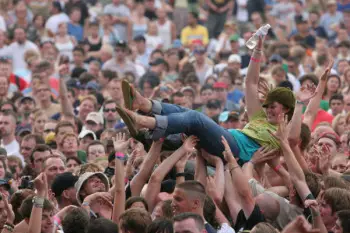 Here are some helpful hints from Buzzfeed.
1. Bring a friend or go alone.
2. Pay attention to the opening band.
3. Hit the merch table BEFORE the show.
4. Go to the bathroom BEFORE the show.
5. Drinking: when and how much.
6. Find your spot (assuming you don't have an assigned seat, of course)
7. Make friends
8. Don't fight.
9. Dance
10. Follow moshing etiquette and safety precautions.
11. Don't watch the whole show through your cell phone.
Good points. I'd add the following.
12. If it's a no smoking venue, DON'T SMOKE, fer crissakes.
13. Don't sing along to every song at the top of your lungs. Other people paid to hear the band, not you.
14. Don't throw shit.
15. Stay for the encore.