14 Reasons to Give You Music Away for Free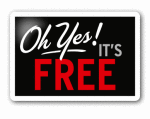 In a persuasive argument from Digital Music News, here are 14 very good reasons an artist may wish to give away music for free:
1. Data
2. Quality Control
3. Leaks = Buzz
4. Market Research
5. It Can Obliterate Obscurity
Read about the other nine reasons along with the reasoning behind them here.