1963-2013: 50 Years of Cassettes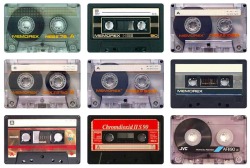 It was five decades ago this year that Philips, the Dutch electronics company, unveiled a new format called the Compact Cassette. A product team led by a guy named Lou Ottens came up with an innovation featuring a reel-to-reel tape set-up which was miniaturized into something that could fit inside a permanent plastic housing smaller than a pack of smokes.
Although it took at while to catch on–it faced tough competition from the 8-track at first–the cassette eventually became massively popular before being eclipsed by digital technology is most parts of the world by the end of the 20th century.
Some facts about the cassette:
1. Originally, blank cassettes were hugely expensive. In 1963, the retail price for one blank tape was $70. No, that's not a typo.
2. Philips gave away cassette technology for the tiniest of licensing fees. They wanted other companies to get in on the action.
3. Cassette tape–just 1/4 of an inch wide–runs at 1 7/8 inches per second, half the speed of an 8-track.
4. If it weren't for cassettes, the Stones might not have written "Satisfaction." in 1965, Keith Richards famously came up with the riff in his sleep and awoke only long enough to get two minutes of it down on the cassette recorder he had by his bed in his hotel room in Florida. He forgot to turn off the machines when he fell back asleep, resulting in 40 minutes of him snoring.
5. The first prerecorded cassettes started appearing in 1966. At the height of the Walkman craze in the early 80s, prerecorded cassettes outsold all other formats. In 1993, roughly prerecorded cassettes and CDs sold roughly in equivalent amounts.
6. While prerecorded cassette should be dead, it's not. In 2012, 200,000 albums on tape were sold. Tiny, yes, but up 645% from 2011. Why?