2012 Juno Award Winners–So Far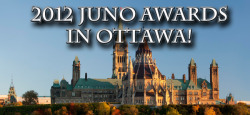 First, this is NOT an April Fool's joke.
With 41 Juno categories and 99 nominees, there's no way that everything can fit into the Sunday telecast. That's why there's the industry-only pre-Juno dinner on the Saturday night. Sorry to spoil things for you, but here's what happened.
Group of the Year: Arkells
They were drinkin' in celebration in Hamilton last night. Arkells over Nickelback? Well-deserved but still a surprise. Question: why isn't Group of the Year considered important enough for the main awards telecast? Anyone?
New Group of the Year: The Sheepdogs
You could see this one from a mile away. Unfortunately for Juno organizers, the band wasn't there to accept their award because they're touring in Australia. They had to tweet an acceptance from Perth.
Rock Album of the Year: The Sheepdogs, Learn & Burn
Really? They beat Sloan and Matthew Good? How did that happen. A real surprise–to me, anyway. And again, shouldn't this award be on the telecast? Or do the producers thing that Rock is a category equal in importance to the general public as, say, Classical Album, Ensemble or Soloists with Large Ensemble?
Alternative Album of the Year: Dan Mangan, Oh Fortune
This was the toughest category to handicap. I might have expected Fucked Up to come out on top, but no one should be disappointed with Mangan's win.
Adult Alternative Album of the Year: Feist
She was my pick to win. Poor Ron Sexsmith goes hope empty-handed.
International Album of the Year: Adele, 21
This category is based on sales. It was no contest.
Electronic Album of the Year: Ravedeath, 1972
Not Austra? Shock.
Rap Recording: Drake, Take Care
The dude was nominated for so many awards last year and won zero. And he was the host! Give him this one. And considering its stellar American sales numbers…
Music DVD of the Year: Feist, Look What the Light Did Now
They still make music DVDs? When was the last time you bought one?
Best Metal/Hard Music Album: KENmode
Not Anvil? Recount!
Pop Album of the Year: Hedley, Storms
Didn't care about this category yesterday. Still don't care today.
There were a bunch of other categories dealt with last night. The remaining seven will be handled on the CTV broadcast tonight.
Here's the full list of the 34 pre-Junos:
New Group of the Year: The Sheepdogs
Group of the Year: Arkells
International Album: 21, Adele
Country Album: Roots and Wings, Terri Clark
Adult Alternative Album: Metals, Feist
Alternative Album: Oh Fortune, Dan Mangan
Pop Album: Storms, Hedley
Rock Album: Learn and Burn, The Sheepdogs
Vocal Jazz Album: Le carre d nos amours, Sonia Johnson
Contemporary Jazz Album: Changing Seasons, Phil Dwyer Orchestra
Traditional Jazz Album: Verge, David Braid
Instrumental Album: Stretch Orchestra
Francophone Album: La caverne, Malajube
Children's Album: Songs, Stories and Friends, Charlie Hope
Classical Album, Solo or Chamber Ensemble: Liszt Piano Sonata, Marc-Andre Hamelin
Classical Album, Large Ensemble or Soloists with Large Ensemble: Daugherty, Fire and Blood, Alexandre Da Costa/Orchestre Symphonique de Montreal
Classical Album, Vocal or Choral: Haydn Arias, Jane Archibald
Classical Composition: Sepia Fragments, Derek Charke
Rap Recording: Take Care, Drake
R&B/Soul Recording: Gone and Never Coming Back, Melanie Fiona
Reggae Recording: Bleaching Shop, Exco Levi
Aboriginal Album: Songs Lived & Life Played, Murray Porter
Roots & Traditional Album: Small Source of Comfort, Bruce Cockburn
Blues Album: To Behold, Monkey Junk
Contemporary Christian/Gospel Album: On the Altar of Love, Downhere
World Music Album: Aam Zameen: common ground, Kiran Ahluwalia
Best Producer: Brian Howes (Hedley, Nickelback)
Best Recording Engineer: George Seara (Kaeshammer, Laila Biali)
Recording Package: Jeff Harrison and Kim Ridgewell (Chris Tarry)
Video: Rumbleseat, Mike Roberts (The Sadies)
Music DVD: Feist, Look at What the Light Did Now
Electronic Album: Ravedeath, 1972, Tim Hecker
Metal/Hard Music: Venerable, KEN mode