2019 Rock and Roll Hall of Fame Nominees Revealed
Let the debating begin as to who belongs in the Rock and Roll Hall of Fame's Class of 2019, and which artists have been snubbed. Isn't that where the real fun is?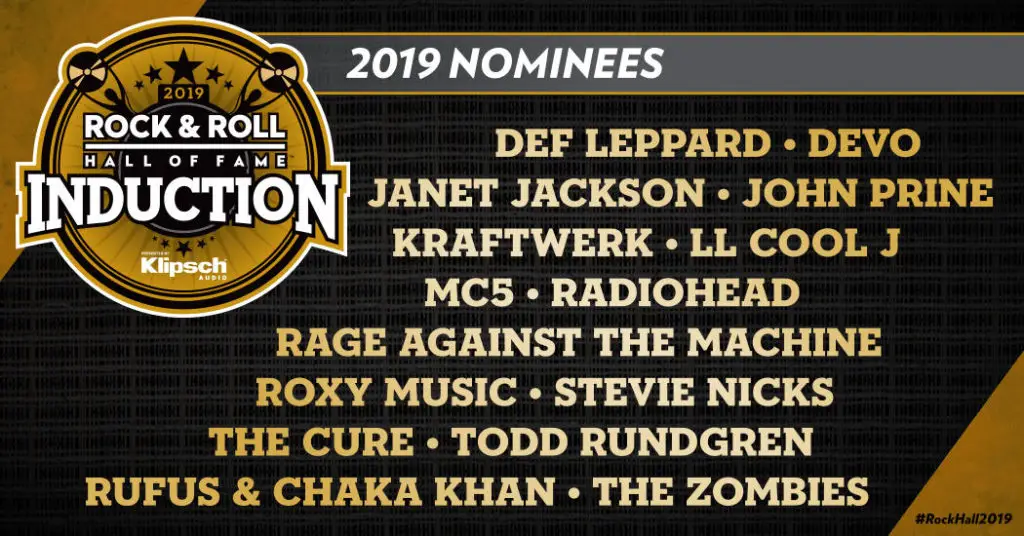 Fan voting is officially open for the 15 eligibles acts above, and runs until 11:59 PM ET on December 9th, 2018. The Top 5 as chosen by those who register at RockHall.com/FanVote will comprise a "fans' ballot" that will be tallied along with the other ballots to choose the 2019 inductees, with one ballot being allowed per day. Among the hopefuls are six first-timers (Def Leppard, Devo, John Prine, Roxy Music, Stevie Nicks and Todd Rundgren, although the former Mrs. Lindsey Buckingham is already in there with Fleetwood Mac). Kraftwerk and LL Cool J are both up for their fifth swing of the bat, while Radiohead and Rage Against the Machine's band names were put forward last year only to lose out to a decidedly classic rock group that included Bon Jovi, Yes and Dire Straits.
What's fascinating to me is how so many R'n'R HoF contenders continue to be incredibly active; they've been around for at least 25 years as per the only real criteria for consideration. The Cure are gearing up for the 40th anniversary of their debut album, John Prine's The Tree of Forgiveness was No. 5 on Billboard 200 with heaps of critical acclaim, and the MC50 tour celebrated the live recording of Kick Out the Jams on Devil's Night and Halloween back in 1968 Detroit. Do you hear that, Zack de la Rocha? We need your incendiary concoction of metal and funk rap with RATM now more than ever!
Now where was I? The induction ceremony will return to Brooklyn's Barclays Center on March 29th, 2019. Radiohead currently doesn't have any tour dates booked, which may bode well for them unlike how they just happened to be in South America as the most recent proceedings unfolded. Regardless of what country you live in, how old you are or whatever your political allegiance may be, I think we've all become aware how important voting is, so make your voice heard…even if it's for something as trivial as a music industry institution.