2020 means 25 years of FOO. How to celebrate?
I don't think Dave Grohl himself would have ever believed his post-Nirvana venture with the corny, UFO-inspired name would have stuck around for almost as many years as Kurt Cobain was alive.
The lead singer, principal songwriter and goofy-grinned guitarist for Foo Fighters is arguably the most recognizable brand name in rock of the past quarter-century or so, no easy feat considering who he essentially replaced. With that territory comes the obvious undying love from fans you've earnestly connected with, seemingly outweighed at times by vitriol over everything you do as being inauthentic and solely in the pursuit of more profit.
The 12-month period between Kurt Cobain's death and the beginning of Foo Fighters' first ever tour supporting Mike Watt couldn't have been a bed of marigolds for one Mr. Grohl. Making the decision to release the material he recorded alone as a way of dealing with his friend and bandmate's suicide took courage. Grohl would undoubtedly have fit in very nicely behind Pearl Jam's kit; the Pocketwatch cassette from a few years earlier showed that there was much more to him than just drumming, no matter how influential a player he had become in a relatively short amount of time.
Try as he might to keep it under wraps like the 1947 UFO crash in Roswell New Mexico we all know really took place, Grohl's creativity was bound to leak out at some point. Forget post-grunge groups in the mid to late '90s trying to replicate Nirvana's meteoric success. More like they've all been following in his FOO-steps. On Foo Fighters' July 4th 1995 debut (Independence Day, go figure), Grohl lays out a meticulous blueprint of toned down hardcore from his Scream days with overpoweringly loud guitars, although not too intense to drown out some remarkably introspective lyrics. Even as they've metamorphosized into a fully functioning band that now counts six members, the FF MO hasn't deviated much from its outset. Whenever their tenth album materializes this year, it probably won't sound radically different than what we're accustomed to. This playlist is audible proof Dave Grohl is a rock and roll composer for the ages.
There are a few occasions to hypothetically mark in terms of Foo Fighters' 25th anniversary. January 8, 1995 was the first instance anyone outside of a very select circle heard this new project when Eddie Vedder premiered "Exhausted" on his Self-Pollution pirate radio broadcast.
According to the FOOs themselves, February 19th on the second floor of a Seattle marine supply store was their first ever live appearance featuring Grohl out front on guitar, accompanied by Nirvana holdover Pat Smear as well as bassist Nate Mendel and drummer William Goldsmith who were on the market thanks to emo establishers Sunny Day Real Estate breaking up.
After a handful of warmup shows in the Pacific Northwest and California, the nascent unit loaded up in a secondhand vehicle like so many other road warriors to embark on a 31-stop, 39 day make-or-break trip opening for the aforementioned Mike Watt's wrestling-themed palooza that stretched across most of the US and across the border into Canada. Rather than be a step down for Dave Grohl who had experienced the dizziest of alt-rock heights as Nirvana's drummer, he saw this as a definitive opportunity to prove himself. Even if it meant starting all over again. This is what Foo Fighters are commemorating in 2020 with a "Van Tour" that will revisit some of the cities that helped shape the band into what it is today, not that there's any chance in hell the six of them will be squeezing into a smelly Dodge together with all their gear. Sponsor citiBank won't be allowing that. It's more of a metaphor really for Grohl's latest rockcumentary What Drives Us about said van life, to be previewed prior to non-festival concerts between the same dates as their initial 1995 excursion (April 12th to May 20th, see infographic below).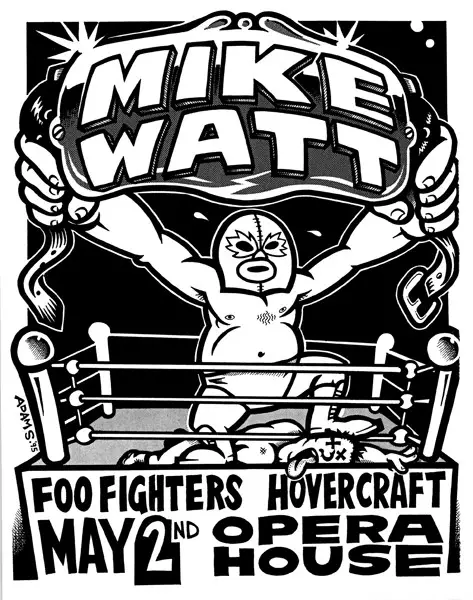 To suggest 1995 was busy for Foo Fighters may be the biggest understatement…of well the last 25 years maybe. A dozen of the exact same venues were re-hit later that summer, only now they were in demand headliners. By Belgium's Pukkelpop festival at the end of August, the FOO was billed second from the top before Neil Young, who had Pearl Jam sans Eddie Vedder backing the Godfather of Grunge on Mirror Ball, another album turning 25 in 2020. All in all the foursome performed a total of 123 times, so please don't say they didn't paid their dues or try shovelling some other sellout-type BS like that. Despite his lofty status of being in two of alternative rock's most popular groups ever, Dave Grohl can absolutely relate to struggle.
On that first tour with Mike Watt, Dave Grohl still had the aura of Nirvana around him that obviously got Foo Fighters attention out of the gate other just-as-hardworking musicians would kill for, granted. Besides getting the best possible preview of the tracks that would make up the (one-man) self-titled effort three months ahead of time, curious onlookers who came out were treated to a double-shot of Grohl on stage with Eddie Vedder jamming with Watt on borderline psychobilly songs like "Big Train".
Grohl also has a canon of work that millions of people have genuinely connected with which no hater no matter how envious can ever tear down. He continues to give back with the FOO, who are teasing intimate encounters at the clubs they played in 1995 that are still around, in addition to a festival-sized "D.C. Jam" on their socials. Here's to 25 more, and maybe even a Rock and Roll Hall of Fame nomination in the fall to cap off what's sure to be an eventful year.