25 Years Ago This Month, Canada Saw Lollapalooza for the First Time
"Here," said Noni, the radio station's promotions director. "Take this stack of tickets and give them away to anyone who will take them." She handed me a brick of tickets for something called "Lollapalooza."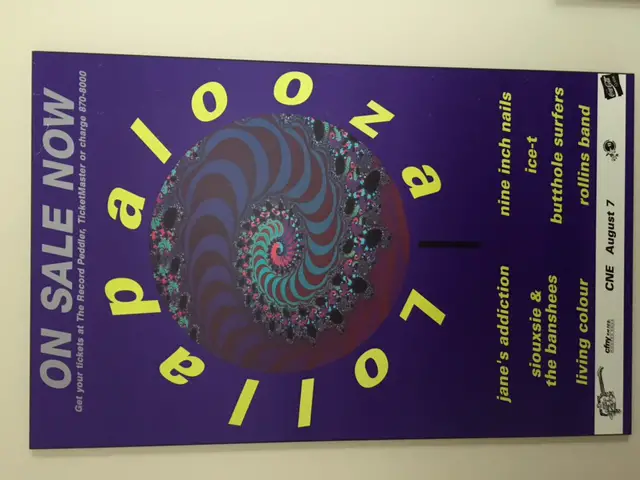 It was early July 1991 and we were about a month away from the Jane's Addiction farewell tour rolling into Toronto's ancient Exhibition Stadium. The concept was daft: Who was going to pay to see an old-school caravan tour featuring a bunch of left-of-centre bands that had never broken through to mainstream audiences? Outside of a bunch of alternative weirdos, the answer was "no one."
In July 1991, we still didn't have Nevermind. Pearl Jam had yet to release Ten. Soundgarden's Badmotorfinger was still a couple of months away. Bloodsugarsexmagick from the Red Hot Chili Peppers was still on the "coming soon" list. Alice in Chains was still flirting with a glam rock image. Hell, Metallica still hadn't released their black album.  Yet you could feel something was changing.
The last year has been awash in interesting new music, much of it sloshing from the hitherto under-represented alternative and indie universes. Madchester. The Pixies. Industrial music. Glammy punk. Hair metal had devolved into a never-ending series of power ballads. Classic rock artists–Pink Floyd, Lynyrd Skynyrd, Elton John, Springsteen, to name a few–were still filling stadia, but that was getting old. Meanwhile, Generation X–the children of the Baby Boomers–were struggling through a brutal recession and a fear that they'd never be able to have the same standard of living as their parents.
Then along came Lollapalooza. Inspired by a 30,000 person-strong Pixies singalong at the Reading Festival a year earlier, Jane's Addiction frontman Perry Farrell thought it was time to bring the festival atmosphere to North America. And rather than make it a one-off deal in a single location, why not tour the whole thing? And since Jane's was getting ready to pack it in, the event could serve as a cool way to say farewell.
After pulling together some investors and promoters, Lollapalooza was born. The first-ever show happened on July 18, 1991, outside of Phoenix. The first Toronto show (and the only Canadian date) was set for August 7.
At the time, I was hosting alternative nights at a string of dance clubs. I'd take my brick of tickets and give pairs to anyone who would take them. To be honest, though, there were few takers.
"Lollapalooza? What's that?"
"It's a traveling alternative music festival."
"Neat. But it'll never work. There's not enough of us."
By the time the tour rolling into the CNE, I still had dozens of tickets left. Maybe it was the fact that the show was on a Wednesday. Maybe it was because it was at crappy old Exhibition Stadium. Or maybe because the Lollapalooza was ahead of its time, anticipating what was yet to come.
I got there early to see Henry Rollins angst his way through a set by the newly-created Rollins band. Gibby Haynes of the Butthole Surfers scream at the crowd through a megaphone. (They provided a real problem for the mainstream media covering the event. None of the TV stations could bring themselves to say "butthole," referring them instead to "BH Surfers.") Then came Nine Inch Nails, Ice T & Body Count, Living Colour, Siouxsie & the Banshees and finally Jane's Addiction.
I seem to remember that attendance was around the 19,000 mark. I also remember Joey and Mary Ramone being walked to some special folding chairs off to the side of the stage so they could watch a few bands on an off day between club gigs (They'd played in Toronto at RPM the night before and were scheduled to play in Kitchener the night after.) The crowd gave them a big cheer.
Other memories:
Nine Inch Nails trashing a chunk of their gear.
Henry Rollins telling me a story about a night Black Flag baited the LAPD into busting their heads.
Body Count marching onstage to the sound of gunfire.
Siouxsie dancing through "Kiss Them for Me."
Although attendance could have been better, the decision was made to return in 1992, this time at Molson Park in Barrie. And by the time the date rolled around, there wasn't a single ticket to be had anywhere. The Alternative Nation had been born.
https://youtu.be/8oX9wPOPnyM