25 Years Ago Today, Kurt Cobain Married Courtney Love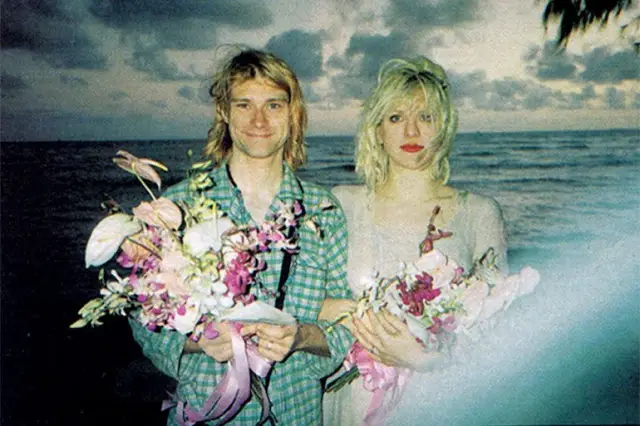 The ceremony was decidedly non-traditional. On February 24, 1992, on a cliff overlooking a beach in Waikiki with the bride wearing a white lace dress (formerly part of the wardrobe of actress Frances Farmer) and the groom wearing, er, flannel pajamas, the marriage was witnessed by eight people, including Nirvana drummer Dave Grohl, a few friends and a couple of Nirvana roadies. There were no paparazzi, no fans, no wedding crashers.
The ceremony was performed by a non-denominational female minister. It's said that Kurt cried like a baby but Courtney remained dry-eyed. You can read their wedding vows here. (It's interesting to compare those vows against a note that was found in Kurt's wallet after he died on April 5, 1994).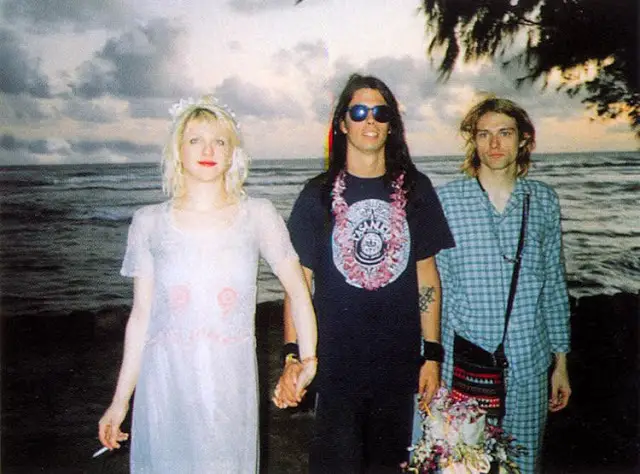 The wedding came almost three years after Courtney had met Kurt at a Butthole Surfers concert in May 1991 and immediately "bonded over pharmaceuticals." At the time, Nirvana was roaring towards its peak with Nevermind the #1 album in the US, selling 300,000 copies a week.
Courtney was three months pregnant at the time, something she had just found out during a Nirvana tour stop in Hawaii on their Pacific Rim tour. That discovery had a lot to do with the impromptu wedding. While she made an effort to detox, Kurt was reticent, although he did try again a few weeks before Courtney's due date.
Then came the Vanity Fair article…