A 4-D Sound System? What?
It's easy to imagine 3-D sound because that's what we hear every day.  But 4-D sound?
This is what Paul Oomen, the head of a Dutch company called 4DSOUND says he's created.  I haven't heard it, but it looks awesome.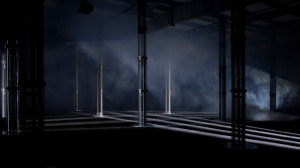 This is from Resident Advisor:
Even before you've heard 4DSOUND, it's kind of awesome. Oomen said it was designed primarily for function, though its imposing and very-techno presence hardly detracts from the experience. Built from rough industrial metal, it's comprised of 16 cylinders with the height and girth of young palm trees. These house arrays of speakers, which are nested in three clusters: below waist, at head height and well overhead. The speaker stacks sit in a four-by-four grid on a grated platform that houses low-frequency drivers and generally defines the space. It's about the size of a medium-to-large club dance floor—similar to Berghain, Oomen and I agreed—and I guessed a few hundred people could wind through it without bumping into one another. In its current home, there's also ample space beyond the platform to mill about. Off to the side of the room is a larger workstation, with a souped-up Macintosh and banks of speaker amplifiers. Oomen invited me to start exploring the space while he loaded up some music at the workstation. 
The desire to break out of mono and, later, stereo mixing and truly set sound in motion is a longstanding ideal in electronic music. If synthesizers let us compose not just for specific instruments but for the fabric of sound itself, should we not also have the freedom to put sound where we want it, in space and in time?