50 years ago, The Beatles broke up, this time for good.
The Beatles officially dissolved forever fifty years ago today when Paul McCartney announced that he was leaving the band. The word came out in the form of a written Q&A he sent out simultaneously with the release of his debut sol album, McCartney. It was April 10, 1970.
The breakup announcement was casual in its language as Macca said he was taking a "break with the Beatles" because of "personal differences, business differences, musical differences, but most of all because I have a better time with my family." He also said he didn't plan to make any more music with the group, but also left the door open to working with John, George and Ringo again with a cryptic "I don't know."
As far as anyone can tell, the four Beatles were never together in the same room again.
But this wasn't the first time the group threatened to fly apart. Over the last two years of their existence, each member took at turn quitting thereby threatening the future of The Beatles.
1. August 1968: Ringo Bails
Tensions had begun to rise through 1968 as the band worked on The Beatles (aka "the white album") at Abbey Road.
Ringo was the first to walk out on August 22, 1968. Having lost confidence in his ability to play up to his usual standards and feeling alienated from the other three members, he told John that he was out.
From The Beatles Bible:
"I said, 'I'm leaving the group because I'm not playing well and I feel unloved and out of it, and you three are really close.' And John said, 'I thought it was you three!'
"So then I went over to Paul's and knocked on his door. I said the same thing: 'I'm leaving the band. I feel you three guys are really close and I'm out of it.' And Paul said, 'I thought it was you three!'
"I didn't even bother going to George then. I said, 'I'm going on holiday.' I took the kids and we went to Sardinia."
Meanwhile, the rest of the group recorded "Back in the USSR" without Ringo. It's Paul playing drums here.
Ringo enjoyed his time in the Italian sun, especially when he encountered a story about how an octopus will create a nest on the sea floor. That was the beginning of "Ocotpus's Garden."
Then a telegram arrived from John: 'You're the best rock'n'roll drummer in the world. Come on home, we love you." Ringo relented and returned to Abbey Road to find his drum kit covered in flowers. Crisis averted. The band played on and the press was never the wiser.
2. January 1969: George Bails
George was always regarded as the third-best songwriting in The Beatles, something that greatly frustrated him. On January 10, 1969, the group was at Twickenham Film Studios to get footage of them in rehearsal. George was withdrawn and quiet. Something was obviously bothering him.
Then, around lunchtime he just walked out. "See you 'round the clubs," he said.
Confused and angry by what just happened, John, Paul, and Ringo went back to work with Yoko jamming along with them in a very aggressive way.
A meeting was held on January 15, 1969, to determined the future of the group. George agreed to come back on the condition that Paul abandoned any idea of The Beatles ever performing a proper live concert again.
3. September 1969: John Bails
On August 20, 1969, The Beatles appeared at Abbey Road for the last time to put the finishing touches on what would become the Let It Be album. Shortly thereafter, John made an impulsive decision to throw together a band for a solo appearance at the Toronto Rock'n'Roll Revival. He enjoyed working on his own so much that he decided he didn't need The Beatles. (I recount that story here.)
Back at Apple Corps HQ in London the following week, the four Beatles got together to talk about what to do next and about a new contract drafted by manager Allen Klein to improve the band's royalty rate. It was on that day, September 20, 1969, that John announced that he was leaving.
Again from The Beatles Bible quoting Lennon Remembers by Jann Wenner:
"When I got back [from Toronto] there were a few meetings and Allen said, 'Cool it,' 'cause there was a lot to do [with The Beatles] business-wise, and it wouldn't have been suitable at the time. Then we were discussing something in the office with Paul and Paul was saying to do something, and I kept saying, 'No, no, no' to everything he said.
"So it came to a point that I had to say something. So I said, 'The group's over, I'm leaving.' Allen was there, and he was saying, 'Don't tell.' He didn't want me to tell Paul even. But I couldn't help it, I couldn't stop it, it came out. And Paul and Allen said they were glad that I wasn't going to announce it, like I was going to make an event out of it. I don't know whether Paul said, 'Don't tell anybody,' but he was damn pleased that I wasn't. He said, 'Oh well, that means nothing really happened if you're not going to say anything.' So that's what happened."
Ringo remembers (via The Beatles Bible quoting Anthology):
"After the Plastic Ono Band's debut in Toronto, we had a meeting in Savile Row where John finally brought it to its head. He said: 'Well, that's it, lads. Let's end it.' And we all said 'yes'. And though I said 'yes' because it was ending (and you can't keep it together anyway, if this is what the attitude is) I don't know if I would have said, 'End it.' I probably would have lingered another couple of years.
"But when we all met in the office, we knew it was good. It wasn't sulky and we weren't really fighting. It was like a thought came into the room, and everyone said what they said. John didn't think we should leave, just that we should break it up. It was not: 'I'm leaving, you're leaving.' It was: 'Well, that's it! I've had enough. I want to do this…'
"If that had happened in 1965, or 1967 even, it would have been a mighty shock. Now it was just 'let's get the divorce over with', really. And John was always the most forward when it came to nailing anything."
Nothing much really happened after that. Everything was kept very, very quiet as the contract negotiations with EMI continued.
4. April 1970: Paul Bails
John, George, and Ringo knew that Paul was ready to release a solo album, but they were concerned it would clash with the release of both the Let It Be album and film. This greatly pissed off Macca who decided to go anyway. He drafted the Q&A and sent it out to the press the evening of April 9. On the morning of April 10, 1970, The Daily Mirror had the news on the front page.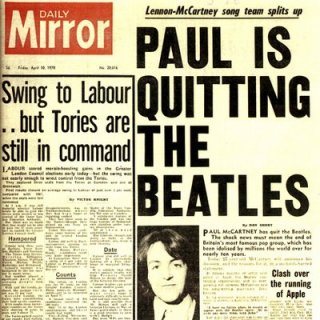 The British media portrayed McCartney as the bad guy in all this. Took another two years and the excellent Band on the Run album for them to soften up on Macca.
There were many attempts to get The Beatles back together over the decades. I remember Winnipeg radio station CFRW starting a petition in the mid-70s for a reunion that spread across North America collecting somewhere (I think) one million signatures. Nothing happened, of course.
There was an offer of $50 million for one concert. When they refused, he doubled it to $100 million. Nope.
Then there was the almost reunion on Saturday Night Live in February 1976.
It turns out that Paul was hanging out with John at the Dakota watching the show. For a second, they thought "Why don't we go down there?" They had a laugh and decided that it was a bad idea.
George, however, wanted his money.
The offers kept coming, even after John died. Thirty million each for a show in Central Park in 1994. Five hundred million for 20 minutes at Shea Stadium on August 23, 1996. Two hundred and twenty-five million for a tour of Japan. But no amount of money could persuade them to get back together.
But that's a good thing. If they had reunited, it would have forever altered the magic of those glorious years of Beatlemania from 1963 to 1970.