51 Injured by Lightning Strike at German Metal Festival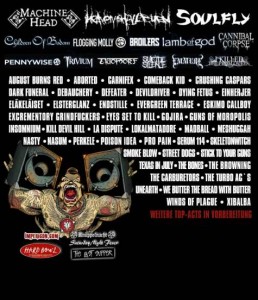 Just like the eastern US, Germany was battered by powerful storms Saturday night.
First the good news: no one was killed. However, 51 people were injured Saturday night when a bolt of lightning struck a mast attached to the stage rigging.
Reports say a black cloud parked itself over the stage at about 2am (a black cloud over a metal gig?) as the band Heaven Shall Burn (I CANNOT make this shit up!) took the stage.
Then…BOOM! People flying, tents destroyed, plenty of panic. Three of the injured ended up in intensive care.
Take a moment to zoom in on the gig poster. There are some, um, unique band names to be found.