6 Lessons from Nickelback on How to Succeed in Music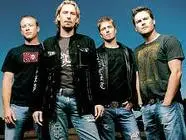 You don't need to like Nickelback to admire them. And you don't need to like their music in order to learn from their experience.
If you're still with me after those two sentences, you're serious about your music career and you want to know where this is going. I refer you to Hypebot:
1. Be totally yourself
2. Keep your sense of humour
3. Work with people who dig what you do
4. Treat business as business
5. Be nice to media and fans
6. Consider your fans' budgets
Obviously there's more to the article then this–which is why I urge any serious musician to read the whole thing.