Last week we dealt with questions about the various musical "stuff" you love, whether band, voice, lyric or item. This week I'm going in a different direction. Each day I'll share an important musical moment from my life. Moments that changed things in some way for me. I hope this will inspire you to share some of your 'moments' too.
1977 turned out to be a big year in my musical life. It was the year that sent me on a journey. Not a trip but what you might call a spiritual pursuit of something I have loved my whole life. Music. Today will deal with another of those moments.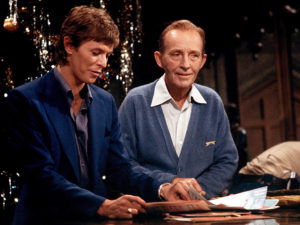 One of the more surreal moments of my youth came from a Bing Crosby Christmas special. My parents were big Bing fans so we watched his Christmas show whenever they were on. So when we were watching this particular one in 1977, I had a rather stunned reaction. In walks David Bowie. Now, at 15 I certainly knew who David Bowie was and I was only just beginning to become a fan. I also had heard all the rumours and stories about him. So to find myself staring at him walking onto a Christmas set with none other than Bing Crosby, I was stunned. Truly stunned.
Beyond that, to hear the two of them sing together was just a bit of music madness. They meshed so well and the addition of "Peace On Earth" to "Little Drummer Boy" was just genius. It is told Bowie hated "Little Drummer Boy" so they whipped up a little something he could sing instead. It made for some true magic. I cannot go a Christmas without listening to it.
Something about our exposures during our mid to late teens really changes us. For me, this was a formative moment. This moment send me over the edge into true Bowie fandom. Exposure to his music is part of my musical journey.
So, how about you? Have you had a moment that changed your life in some way? Feel free to share!