Last week we dealt with questions about the various musical "stuff" you love, whether band, voice, lyric or item. This week I'm going in a different direction. Each day I'll share an important musical moment from my life. Moments that changed things in some way for me. I hope this will inspire you to share some of your 'moments' too.
So having had some interesting moments musically at age 15, things would continue to change and morph for me as the late 70's and early 80's approached. I was always a voracious reader. I liked all sorts of genres but my favourite around that time was science fiction. I had discovered Isaac Asimov, among others, and that had me entranced. The sheer scope and originality in his writing took me to new worlds and got me thinking about what our future might look like.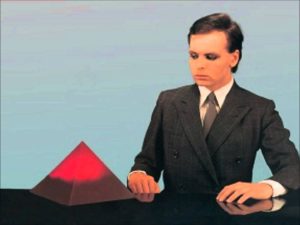 My first exposure to Gary Numan was back in the Tubeway Army days. I believe the first song I heard by him, like many, was "Are Friends Electric". As he moved into his solo work and then exploded worldwide with "Cars", I was mesmerized by him. He was like he came out of the science fiction I was reading. Totally electronic, robotic and still wildly interesting and creative. His innovation and creation inspired so many. He brought me my love of electronic music. He is, without a doubt, one of my musical heroes.
Here's the thing. I never stopped listening to him. So many did. And despite his loyal following, very few people realized he had made the transition, and really set the bar, with his industrial music. He was one of several artists who really created a love in me for the darker side of music. His latest work is the stuff of apocalypse and perfectly poignant for the times. If you forgotten him or never known him, check him out. He changed my life. He could change yours too!
So how about you? Is there an artist moment that changed your life?