Last week we dealt with questions about the various musical "stuff" you love, whether band, voice, lyric or item. This week I'm going in a different direction. Each day I'll share an important musical moment from my life. Moments that changed things in some way for me. I hope this will inspire you to share some of your 'moments' too.
Live shows bring a new dimension to both music we know and music we don't know. You can discover an artist or learn something new about an artist you know. More often than not live music brings you to new place with songs you already loved. It's like hearing it in 3 dimensions for the first time for many of us.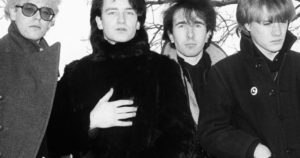 It was 17 years from the time I first heard U2 to the first time I saw them live. That's a long time to follow a band without seeing them. There have lots of bands I like that I haven't seen over the decades. When one of your favourites who brought many moments of joy and a companion to your pain does not get to be seen for that long, it hurts.
I first saw U2 on a TV show called The New Music. They were playing the El Mocambo in Toronto and Jeanne Beker interviewed Bono in a coffee shop near the venue. The date was December 9, 1980. No, I wasn't at the show. I just saw the interview and saw a clip of them playing "I Will Follow". That caught my ear and started me on a long journey of fandom.
As my love of the band grew through the War album and into their rise to the stratosphere, their appearances in Toronto were taken from me for a variety of reasons: couldn't get through for tickets; no money; no time. The longer this went on, the more frustrated I felt. I just wanted to see my favourite band live. I saw video of them but I hadn't crossed the threshold to being there.
So the Pop album comes out in all its ironic glory and pain. One of my friend's managed to snag tickets and here was my chance. Yeah, the seats were at the far end, miles away but I didn't care. Then, a few days before the concert, someone from work says "My friend backed out of the show and I thought you'd like to come". I said I had a ticket but then he mentioned they were 25th row floors. Had a talk with my friend who said I couldn't pass them up. So I got even more excited.
After grabbing some food and drinking a couple of pints I had a lovely buzz going. The Skydome was packed. I was sitting there waiting. Then the lights went down and I felt like I was vibrating. Suddenly the guy I went with grabs my arm and drags me out of the seats. We run over to the fence at the back of our section. I had forgotten they came in through the crowd. So I am standing there as Bono walks within a few feet me do his best boxer impression. That was something.
The show was a blur but I'll never forget that moment. I love that feeling of anticipation and total absorption in the night and music.
So, how about you? Ever had a moment like that? A band you love but had to wait decades to actually experience live?