Last week we dealt with questions about the various musical "stuff" you love, whether band, voice, lyric or item. This week I'm going in a different direction. Each day I'll share an important musical moment from my life. Moments that changed things in some way for me. I hope this will inspire you to share some of your 'moments' too.
Some bands you enjoy for nothing more than the music. I'm a guy who loves a good lyric too. We all have bands that we listen to for listening sake. What about bands that make you think? Bands that bring you into an area you really never paid attention to at all? Is it weird that my introduction to politics came to me through music?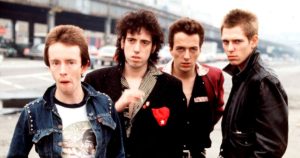 While The Sex Pistols "God Save The Queen" was a contentious and exhilarating moment for me in my teens, I didn't really know enough about what was happening in England to appreciate it beyond it's punk rebellion. It was however, The Clash in the years that followed that opened my eyes to politics. Not just English politics but all politics.
I probably heard "White Riot" on the radio and that was probably my introduction to the band though I can't be sure. It was their second album, Give 'Em Enough Rope that really brought me into their musical realm. Songs like "Safe European Home" and "Tommy Gun" made me a fan. It was everything about their music. The lyrics and the music and Joe Strummer's vocals that were infectious.
As obvious as London Calling is from a hit perspective, and I played the shit out of it believe me, it was what was to come that helped solidify my interest in politics. Sandinista! was so deep and so honest and just so direct that I became lost in the tracks trying to understand the meaning of everything. Even what amounts to a fun track like "The Magnificent Seven" had so much history in it that I spent as much time pouring over lyrics as I did listening. Years later, with my kids, it became a standard and we'd all sing "Vacuum cleaner sucks up budgie" and laugh and laugh. Tracks like "Somebody Got Murdered", "Police On My Back" and "Washington Bullets" opened my eyes up to issues far from my suburban middle class life in Toronto. It started me on a road that made me pay attention and try to get others to as well. It led to activism. I owe The Clash a word of thanks for waking me up and never letting me let things go that need to change.
In the world of today we need music to address what is happening. The world is a scary place and we cannot pretend it all away. Play some of their music and remember why these moments are so important.
So, how about you? Was there a band, artist or moment that changed your world view?