7 Days, 7 Questions: Day 7
Let's explore some of this passion we have for music. All this week I'll be asking some questions, sharing my thoughts and, hopefully, hearing from you!
Last day! Let's talk about those musical momentos that we collect and what they mean to us. I have a few items to share.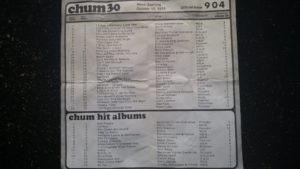 The above item is a CHUM Chart from 1974. Back in the day, Toronto radio station 1050 CHUM AM was THE station. Every week you'd find one of these top 30 lists at Sam The Record Man. I found this one in a box a few years ago and it was a nice surprise. It's too hard to read from the picture but the top 10 singles of October 12, 1974 were: "I Love, I Honestly Love You" by Olivia Newton-John, "Can't Get Enough Of Your Love Babe" by Barry White, "Tell Me Something Good" by Rufus, "You Ain't Seen Nothing Yet" by BTO, "Sweet Home Alabama" by Lynyrd Skynyrd, "Another Saturday Night" by Cat Stevens, "Then Came You" by Dionne Warwick & The Spinners, "I Shot The Sheriff" by Eric Clapton, "The Bitch Is Back" by Elton John and "Nothing From Nothing" by Billy Preston.
As well, I am a U2 fan (unapologetic but not a blind follower). I could never afford the endless reams of items that the band has put out over the decades but the few I have, I love. They are pictured below. the oft ridiculed Pop album brought us irony and some weird things. The first item is a Popmart inflatable lemon from the 1997 tour (there's a story there for another time – possibly next week!). To the right, at the top is a picture of my stamps from Ireland I ordered from the Irish post office when they released a stamp set that included U2, Van Morrison, Phil Lynott and Rory Gallagher. Finally, a keychain from The Clarence Hotel in Dublin. It is owned by Bono and Edge from U2. I wish I could say I visited but alas, a friend and fellow U2 fan brought it back for me.
So how about you?