A Benefit Album to Save a Church?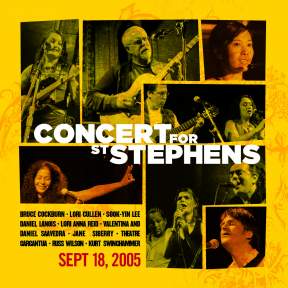 Yep. It's not often that a bunch of rock and folk types will come together in a mission so traditionally spiritual. Here's the backstory.
Back on September 18, 2005, a whack of Toronto musicians came together for a concert to help save St. Stephen's, a 150+ year-old church and a big provider of community and social services. The concert did the trick buck money is always an issue in situations like this.
That's why there's now an album that commemorates this event. Concert for St. Stephens features Daniel Lanois, Jane Siberry, Bruce Cockburn and many others. (Details and a chance to here the album here.)
The album will be available for sale tomorrow. There's also a launch party for the record at (where else?) St. Stephen's (103 Bellevue Ave.) in Toronto on Saturday, September 15th, 1-4pm.