A Chance for Artists to Really Learn the "Business" of the "Music Business"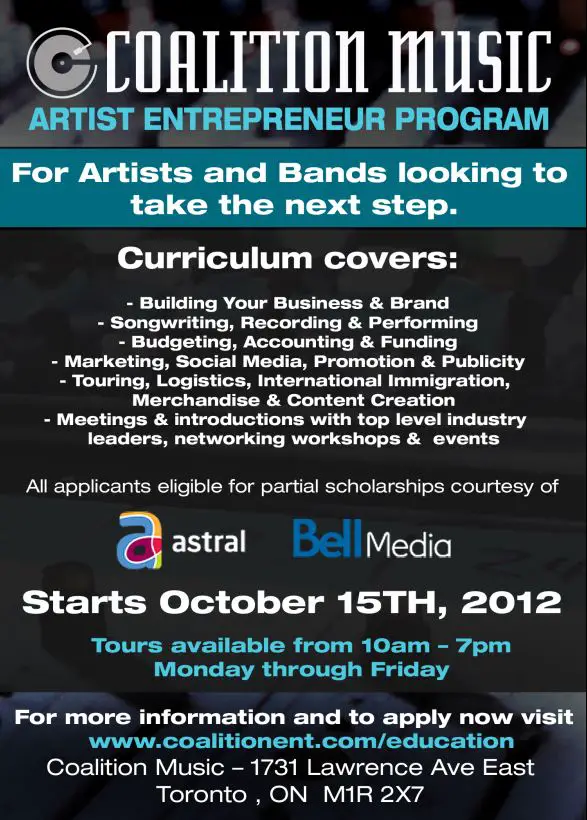 Last month, was part of the faculty for an intensive boot camp where indie bands were schooled on all the things they need to know besides how to make music. You can have all the talent in the world but if you don't know how to run your band, you're screwed.
Everyone who attended that camp went home smarter, stronger and better prepared whatever a career in music throws at them.
Coalition Music–the company that manages Our Lady Peace, Simple Plan, Finger Eleven and many other world-class acts–runs something called the Artist Entrepreneur Program.
This is a 10-week course that offers hands-on, up-close-and-personal career and business consultation, coaching and mentoring from their in-house staff.
Look at the stuff they cover in the curriculum:
Marketing
Promotion
Touring
Live sound
Band agreements
Band psychology
Publishing
Finances, banking, accounting
Management
Social media
Merch
Songwriting
Recording
Performing
FACTOR
SOCAN
Music supervision
Funding and grants
Radio
Talent buying
In other words, the course covers everything you need to keep your band running smooth as butter. The course runs fulltime Monday-Thursday for two-and-a-half months starting October 15 at Coalition HQ at Victoria Park and Lawrence East in Toronto.
I know the guys who run this course and they are seriously good. They will give you a tour if you're on the fence about it. And there are scholarships available to help defray the costs.
If you want info, send Jesse Mitchell an email. You can also check out the Coalition Artist Entrepreneur website.
Hey, what have you got to lose? You've certainly got everything to gain. Now watch the video.