A Conversation With William Shatner About His Singing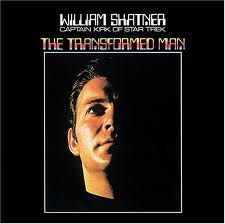 [This appeared today in the Metro papers.  We're currently in the middle of Shatner's How Time Flies tour, which reaches Toronto's Massey Hall on Thursday and Place des Arts in Montreal next Friday.  If you're anywhere near these cities, you should go.  It's fun.  Trust me. -AC]
Before you ask, William Shatner knows that he has a, uh, distinctive singing style.
And he's okay with that. "My intentions for The Transformed Man (Shatner's 1968 debut record) was to combine great literature of the past with great song lyrics of the present," he says, "but not everyone understood that.
"I was invited on The Tonight Show with Johnny Carson to perform.  But in rehearsals, the producer said 'Bill, this is a six minute piece.  Do either the literature or the song because you can't do both.'  So I did the song.
"As I was doing my thing, I looked over at Carson who mouthed to Ed McMahon 'What.  The. F-ck?'   It wasn't my finest hour."