A deconstruction of the Foo Fighters' disco move
[A guest post from frequent contributor, Gilles LeBlanc. – AC]
Dave Grohl and Foo Fighters have seemingly done it all and then some, including a covers album of Brothers Gibb songs as the "Dee Gees". I mean really, what took them so long?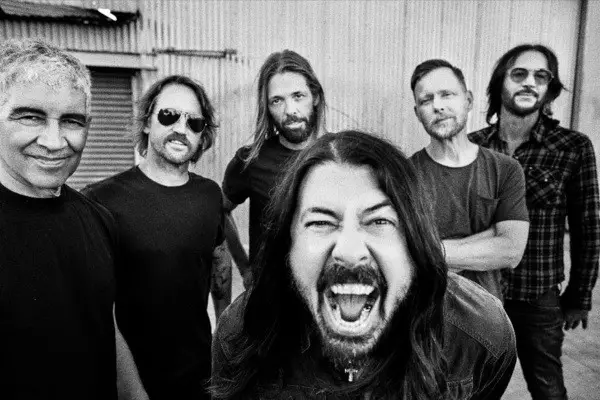 I realize not everyone obsessively follows music news like some "enthusiasts" I know. You have to be living under that proverbial rock I've heard so much about though to have not heard at least once thing about Foo Fighters this past year and a bit. At a time when the industry known for cranking up the volume went quiet, the FOOs have managed to stay active, relevant, and hard to hate on. Besides releasing the pop-rockish and pretty darn good Medicine at Midnight, they threw their support behind Joe Biden (Take THAT, Three Doors Down!), was the musical guest on Saturday Night Live for the umpteenth time, and reopened New York City for indoor event business. Mr. Grohl somehow also stole a few moments to direct not one but two documentaries (What Drives Us and From Cradle to Stage with his mother Virginia) as well as write an autobiography (The Storyteller), due out the same month as Foo Fighters take their rightful place in the Rock & Roll Hall of Fame. If all this isn't enough, a vinyl exclusive titled Hail Satin promises to be one of the highlights of Record Store Day's 2nd "drop".
As fun as it will no doubt be to listen to, the soon-to-be guilty pleasure isn't the FOOst covers compilation. I wish 2011's Medium Rare was on Spotify, featuring thirteen recordings made by that point in a now-26 year career of artists Grohl and Company obviously look(ed) up to and continue to emulate as up-and-comers such as Radkey try to follow in their custom Vans. To commemorate the anniversary tour that can hopefully resume safely soon, here are the original versions of 26 songs Foo Fighters have covered most often in concert.
Rock's FFave Jukebox Band – playlist by PLAYLISTED | Spotify Listen on Spotify: For as long as Foo Fighters have been around (26 years and counting), Dave Grohl and his merry bandmates haven't been afraid to cover songs ranging from the hardest of hard rock to…disco(?). When it comes to the Rock & Roll Hall of Fame's newest inductees, it's all FOO! open.spotify.com.
While Foo Fighters haven't met too many covers they didn't like, it was during the Wasting Light cycle in particular where they started to go over the top with milking others' material for all their worth. Member introductions have since turned into extended segments of them thinking they're a good-time bar band on a Saturday night instead of Cleveland-bound hall-of-famers. Taylor Hawkins for example will step out from behind his kit to unleash his inner Freddie Mercury on "Tie Your Mother Down" or "Under Pressure," the latter being the reigning champion in terms of times mimicked.
By my rockin' research estimation, the FOO have remade in excess of 260(!) individual songs to their liking, with well over half being one-time-only occurrences. It hasn't just been classic hit staples from rock forefathers either. There has of course been the odd one from Grohl's old outfit. What was that group's name again? And you can't accuse Foo Fighters of discriminating against any music genre. Three of the songs that made their top 26 covers playlist have seriously illuminated dance floor vibes to them – "Another One Bites the Dust" (duh), The Rolling Stones' "Miss You", and "You're the One That I Want" off of the $#@%ing Grease soundtrack. You definitely wouldn't have seen 10-year-old David Eric Grohl at the infamous Disco Demolition Night.

Who else can totally envision Dave Grohl wearing this badass T-shirt on stage?
To make even more of a FOOfaraw, as a bonus I've analyzed every year of setlist data up until the most recent show at Madison Square Garden to determine the songs you're most likely to hear performed at a Foo Fighters show in 2021. Not in Canada unfortunately, we're going to have to wait for that but please enjoy these two playlists for the price of one!
The Best of FOO, 26th Anniversary Edition – playlist by PLAYLISTED | Spotify Listen on Spotify: When it comes to Foo Fighters, the more things have changed with them over the past 26 years the more they still ROCK. Celebrate their milestone occasion (+1) with the songs they've most consistently played live while we wait to see and hear what surprises Dave Grohl has up his tattooed sleeves. open.spotify.com