A Dispatch from Reggae Sumfest 2023: Friday July 21st
Good morning, it's another glorious day in reggae paradise! My hosts at the Jamaica Tourist Board really know their stuff – Friday managed to improve on an already astounding Thursday, with an authentically rural experience and the first of two main Sumfest lineups dominating the day. Let's explore it together!
After a late night admiring the drama of the Global Sound Clash, today was mercifully slated to also be a late start. I opted to attend a mid-morning nature walk hosted by Elaine, a member of Secrets St. James' custodial staff who seemed to be moonlighting as a plant whisperer. Elaine led myself and another resort guest along some of the campuses pathways, pointing out local vegetation and sharing facts on how the greenery is cared for and stories from her youth of how she and her family utilized the plants. Some assorted highlights from the excursion:
Many tree species native to Jamaica flower year-round in response to weather conditions – for example, there are a few trees around Secrets that flower just before rain, and can be used reliably to predict the weather.
Lime trees actually have mildly toxic sap, which can be a skin irritant. Elaine and her siblings used to get rashes when chasing each other through lime groves, but lime juice is an effective antidote. Plus, the leaves smell just as great as the fruit!
Banana trees only ever fruit once in their lives – when they're picked, that's it! Commercial farms have to cut down a tree once it's been harvested, but locals have gotten very efficient at recycling banana trees as building materials, stuffing for diapers, compost, and more.
Willow trees (not the kind of willow we're familiar with in Canada) are very popular for the soft, relaxing rustling its leaves make in the wind. They're frequently planted on properties for their therapeutic sounds and also offer thin and supple branches that retain their shape well, making for an effective material to bend or weave into place.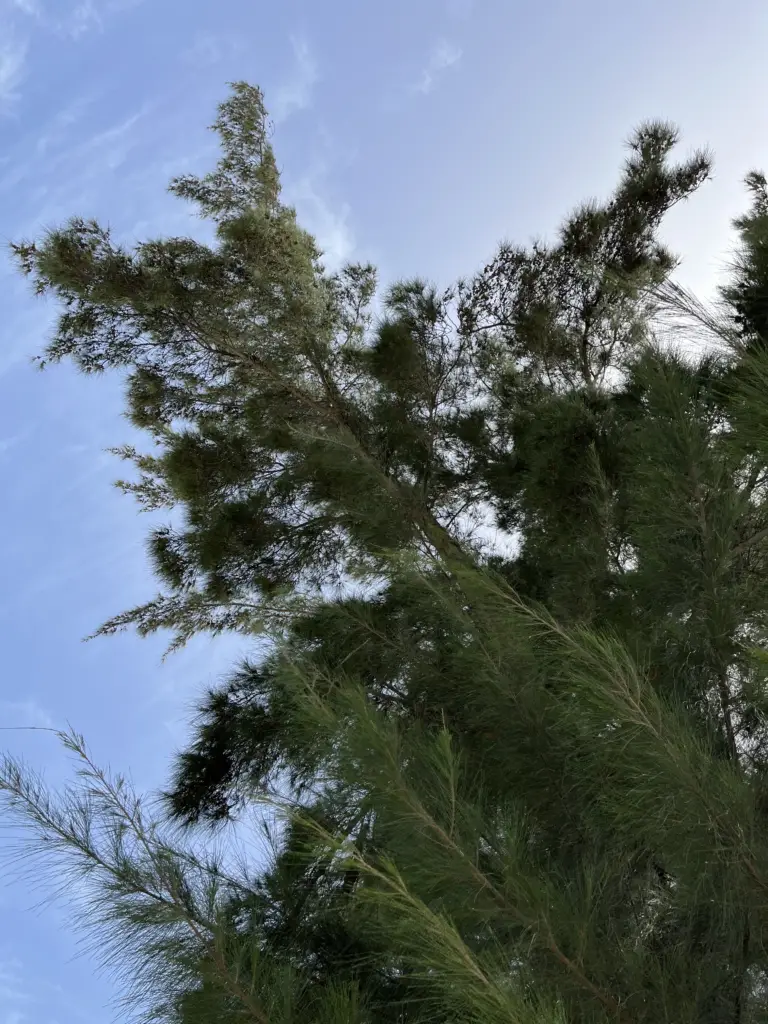 Elaine also pointed out the protected mangroves and turtle grasses (seaweed patches, essentially) dotted around the perimeter of the resort, meaning that no fishing, swimming, or boating activities are allowed. I admired the esteem in Elaine's voice as she spoke about these exclusionary areas – much like Brian and Christopher were mentioning yesterday, there's continued support of maintaining balance between Montego Bay's massive tourist industry and its local needs and I continue to appreciate seeing organic snippets of that philosophy.
Not long after the tour group was picked up from the resort to head into the hills and our next planned excursion. The ride across the island was a lively one, as we struck up a conversation about Thursday's Global Sound Clash. It turns out that Seani B, the British bloke on our trip, is a bit of a Jamaican legend by not only having a Grammy and BBC 1 Xtra show to his name but years of sound clash experience from his youth under his belt. Seani's insight was invaluable as he had a lot to say about Dynamq's performance – the victor had apparently employed some very careful strategy by playing up his foreigner element. By deftly fanning the flames of a long-standing beef between fellow competitors that ultimately saw the stronger entrants scrap amongst themselves and bog each other down, it gave The African a clear lane to later rounds.
A quick aside here to also cover some of sound clash history that Seani shared during the 90 minute ride through the Jamaican hills. Sound clashes were born of the very aggressive marketing strategies Kingstonian clubs employed in the 50s: establishments would blast their music from rooftop bullhorns across the city, doing their best to entice the listeners below to their doors rather than a rival's down the block. As a result the soundsystems had to get louder, music selections had to get better, and the clips and public addresses had to get to the point faster. All of these elements confluence into the sound clash we know today, where quips and pinpoint-accurate needle drops make all of the difference in a crew's chances of success.
The mechanical elements of the competition have changed as well: where crews used to bring their own literal soundsystems to events where a louder and more expensive subwoofer could make the difference, venues have levelled that playing field by providing sound equipment nowadays and the financial arms race has shifted to deejays paying for exclusive, individual dubs from the biggest artists possible instead. Seani broke down how a single worthwhile remix can run $500-600 USD a pop and with dubs sometimes only spinning for ten seconds each, a ten-minute round can easily balloon into a five or even six figure investment for each crew. And if you're gunning for the win, that's five rounds of content to get through! It's certainly not a poor man's hobby, although I get the impression clashing may never have been.
OK, back to the present! By the time we had concluded our sound clash discussion, we were well into the Jamaican countryside. The bustle of Montego Bay had dropped away behind us, to be replaced by small clusters of roadside villages and communities dotting the winding highway. Driver extraordinaire Aneif practically floated through the route, feathering the brake pedal on blind corners and weaving around obstacles as if they were competitors to the chequered flag. There's clearly a different set of unspoken rules for rural driving: the straightest line is often the safest one as lanes be damned, and motorists have to be on constant alert for a cavernous pothole or oncoming traffic to suddenly want a piece of your vehicle. Or sometimes a goat might just materialize in the headlights, as one did for us and Aneif somehow, mind-bogglingly, managed to swerve and spare it near the conclusion of our ride.
Our journey through the pockmarked backroads of Jamaica led us to the tiny 500-strong community of Roaring River, Westmoreland Parish. There our motley crew descended upon RastaSafari, an authentic Rastafarian-owned and -run service offering overland tours in the esoteric hills of southwestern Jamaica. It's exactly how it's described on the tin, and it's beyond great: a small ranch of local Rastafarians operate a guided tour through their lands and humble village, bringing tourists along well-trodden trails in UTVs whilst sharing the stories of their community. From the jump, the deep-rooted sense of community is apparent – the property is overrun with children playing in the rushing waters, all of the guides are lifetime compatriots and fill in each other's stories, and every villager is delighted to welcome us into the fold with waves and dabs – and a freshly-rolled joint, no shit – along the route.
And, the route. Oh. My. God. The gravel paths, while well-trodden, are riddled with divots, puddles, and gnarled roots that test the UTVs and the group's driving capabilities. The drive is exhilarating, but it's the views that really took my breath away. Shaded groves opened up to sweeping mountain views, narrow crevasses spilled into wide-open grasslands, and every corner tucked away another abode or grazing pasture in an experience I can't help but describe as mystic. It really felt like this tiny slice of paradise was springing into existence around us with every new viewpoint, and the group's tone of voice quickly dropped to match the adulation the locals exhibited while describing their beloved home.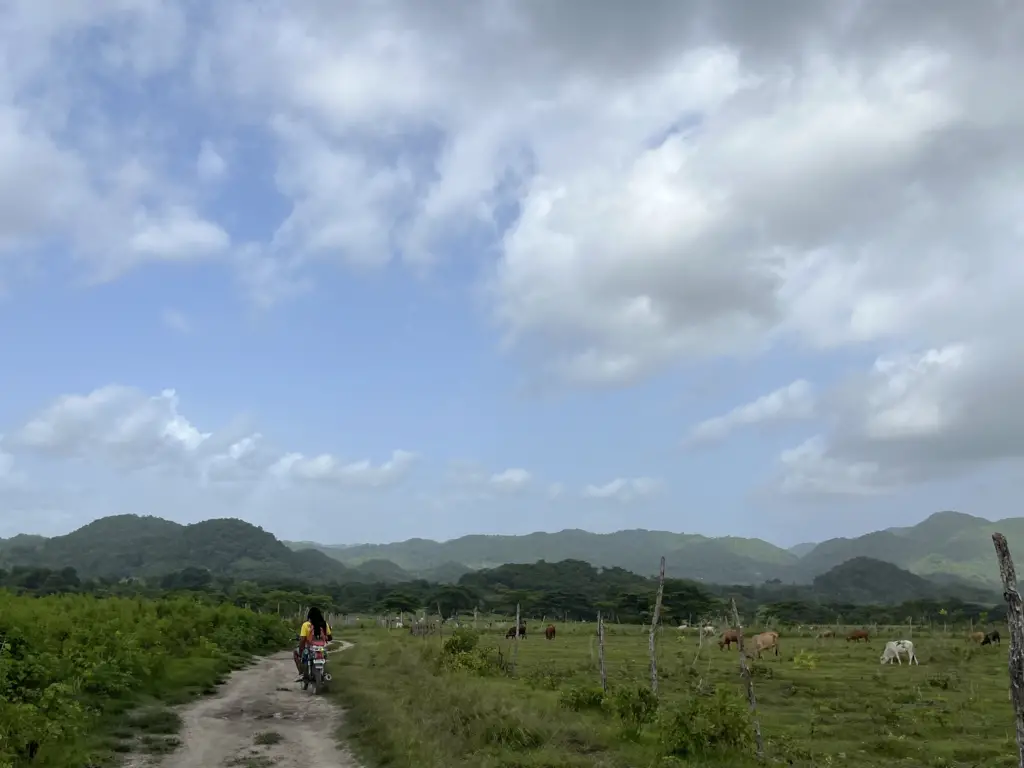 Our convoy halted a few times along the way to take in the sights and delicacies of the journey. Our guides plucked guineps (also known as Spanish pears) from branches, showing us how to pierce the skin and suck the lychee-like jelly from the globulous seeds. We paused at a crossroads taking in the plains that were turned over to the Jamaican government after plantations were closed, and are now cultivated in an impromptu co-operative made up of descendants of the very same slaves. The final stop was at a local wellspring, with waters so deeply vibrant my brain initially registered it as an artificial dye – I had never seen this shade of aquatic blue before. The pool is purported to have healing properties and I'm certainly not one to argue; the crisp coolness of the spontaneous swim and the mango snack that followed were legitimately the most satisfying, refreshing combination I've ever experienced. I can say with complete certainty that I would've stayed in that shaded spring for hours if left to my own devices.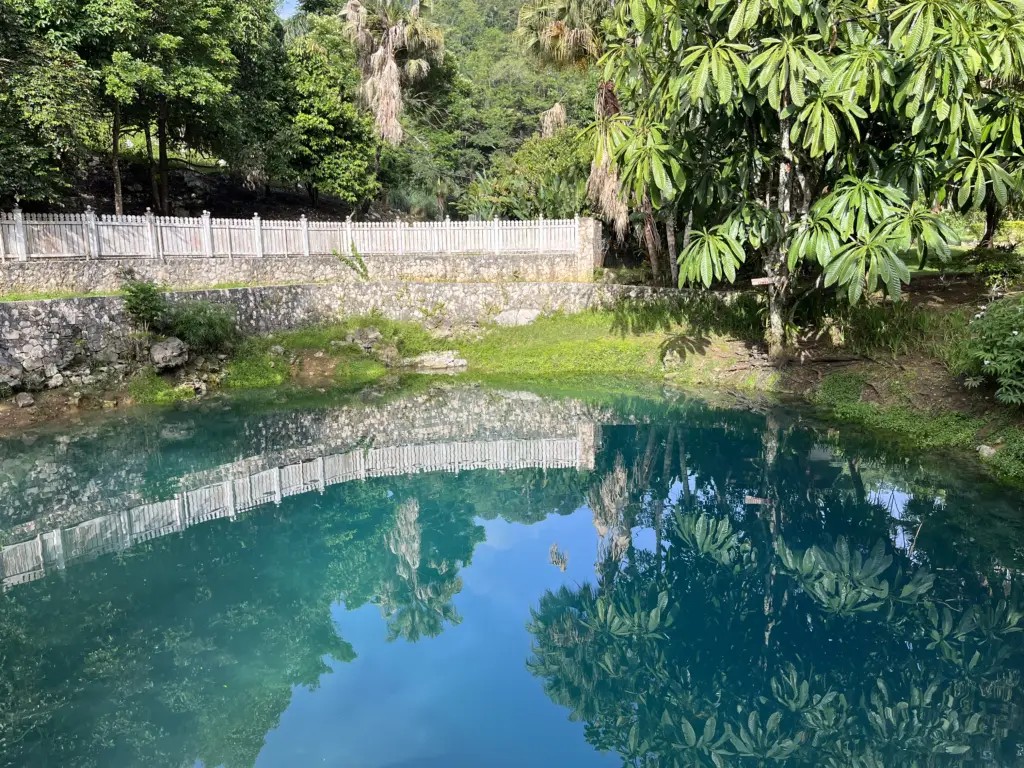 As much as I didn't want it to end, our ride came to a close with a homemade ital (essentially Rastafarian vegan) meal before saying goodbye to the kind souls of RastaSafari and Roaring River. I sincerely hope to visit again soon, but in the meantime we had a resort to get back to in order to rest up for Reggae Sumfest's dancehall night – one of the two massive finale evenings of the week-long festival. A quick stop for some roadside barbecue chicken, some time in bumper-to-bumper traffic, and a shower plus nap combo later and it was time to head to the festival grounds.
The first thing I'm hit with is the immense scale of the Catherine Hall Entertainment Centre. The grounds look to be as big as four or five American football fields put together, an absolutely cavernous space ringed by two-story sponsor booths bathing the audience in coloured lights. By the time we arrive (i.e. fought through a snarl of traffic trying to get in) a sizeable crowd has already formed, but I'm assured the 20,000ish will swell to nearly five time its size before the festival is complete. As the first few acts are performing I explore the venue a little bit, but quickly am swallowed by new arrivals and dart back to the JTB booth dominating the horizon (and thank god for that, the Jamaican crowd is not a totem-carrying one so navigation otherwise would've been a challenge) where I plant myself for the remainder of the evening's festivities.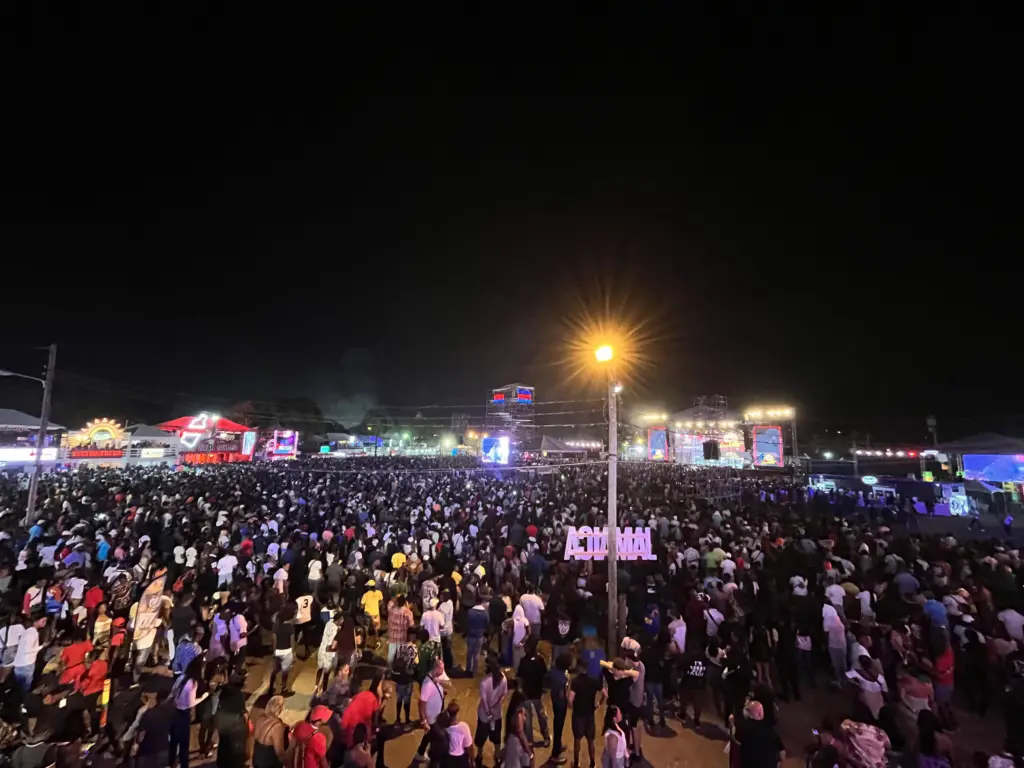 Night one of the main festival is all about dancehall, which carries its own set of hallmark traditions as a genre. Relatively speaking, there isn't actually too much variation in the instrumentation of each dancehall song – there are a few dozen backing tracks at any given moment that become immensely popular and end up being shared between artists, so the uniqueness of each release comes from its lyrics and rearrangement of familiar parts. It actually presents a really fascinating dynamic during the evening, as the backing band never needs to leave the stage for a switchover so the energy can be kept high with quick performer transitions and constant background music throughout. There's one keyboard in particular, the Casio Casiotone MT-40, that has been used ubiquitously in dancehall since the mid 1980s and becomes a soothingly familiar presence as its characteristic chord hits ring constantly throughout each artist's sets.
And trust me, there's plenty of time to get familiar with that quirky Casiotone sound – Sumfest's main nights routinely stretch over ten hours, with headliners oft not hitting the stage until seven or eight in the flipping morning. I put up a valiant effort and made it six and a half hours (hopefully I'll have the stamina to go the full stretch tomorrow night), but with that much content it's impossible to give a detailed breakdown of what I saw. But don't worry, dear reader – I kept notes on my phones as the night progressed, and am pleased to have some highlights:
Moyann's set was easily the biggest spectacle I witness on night one. I'm told she's a bit of a newcomer, so the dramatics make sense – at one point she rides out from backstage on the back of a motorcycle, singing and somehow dancing from the torso-up the whole time. She also brings out dancers that start daggering – essentially wildly exaggerated sex imitation, but while fully clothed. Yes, it's essentially extreme dry-humping. At one point one of the female dancers is humped so hard she is propelled off stage, and a male dancer is nearly put through a table when one of the ladies cannonballs onto his crotch.
I don't catch the artist's name, but the first few seconds of a Vybz Kartel song are teased that put the crowd into a frenzy. Vybz was imprisoned in 2014 for murder, and his population skyrocketed as a result. Thankfully most dancehall artists actively avoid imprisonment – those that are released tend to write songs about how terrible prison is and are effective at influencing others to stay free, but clearly the crowd feels otherwise.
Stalk Ashley has a backing band changeover before her set, which is somewhat rare for dancehall shows and typically indicates a higher profile artist that is more discerning and bringing in their own people. The enthusiastic crowd greeting seems to confirm this suspicion.
At one point I hear Sean Paul's "Temperature" used as a backing track for another dancehall song – it's maybe the only piece of music I've recognized on this trip thus far. Ironically, it happens to get maybe the weakest crowd reaction I've seen on this trip thus far.
Quite a few artists have name-dropped Nova Scotia, yes the Canadian province of barely a million people, throughout the evening. Logically it makes sense as Scotiabank somehow became Jamaica's biggest bank and is synonymous with money and power, but internally I find it hilarious that my home – very squarely one of the have-not provinces – is a symbol of richness on the island. When I relay this factoid to my Jamaican colleagues, they too are tickled.
I spend a good hour or two watching the show with JTB guide Sedrecia, who knows her stuff and is a source for quite a bit of the info in this dispatch. My favourite piece is what I learn about the plastic horns the crowd is blowing in approval: they are modern descendants of the abeng, hollowed-out cow horns that slaves used to blow to communicate with others in the fields. Once used to warn of an incoming slave master or celebrate the birth of a child, they've interwoven into Jamaican culture and still hold a place to this day.
The emotional climax of the evening (well, my evening at least – I didn't last all night don't forget) is rising local star Valiant. Apparently he's been working on his dancehall game for years but finally broke through and made it big somewhat recently, and his gratefulness is infectious from the stage. Valiant is passionate and appreciative, and the crowd roars in turn; it feels like the start of every song is met with a crash of cheers and horns from the nearly 100,000-strong. The MC even comes on stage at one point to interrupt and congratulate Valiant on his achievement. His "success feels good" lyric carries weight, and I'm impressed the young man isn't overwhelmed by the moment.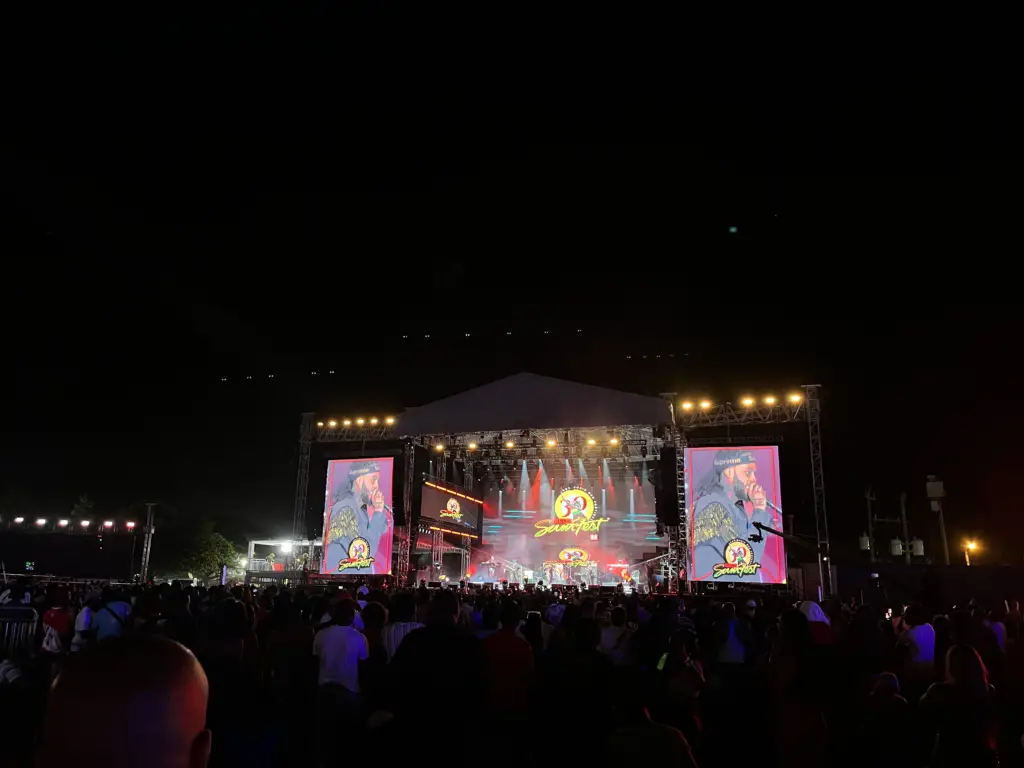 Phew wow, what a night. It's quite the task to capture how this trip has been capturing my heart, but scrolling up and seeing how much I feel compelled to share is, I like to think, a great sign. Now I've got to continue resting and recuperating (at this all-inclusive resort, it's a tough life I know) before hopefully making it all the way through to daybreak of the final night of Sumfest. More to come soon, my friends!
[Mat is a guest of the Jamaican Tourist Board. His thoughts and impressions are his own.]