A Dispatch from Reggae Sumfest 2023: Saturday July 22nd and Sunday July 23rd
Here we are dear reader: the final stretch. It's been a whirlwind journey through Jamaica and Reggae Sumfest 2023, but tonight is the final evening of programming and the conclusion of my trip to this beautiful island nation. After the relative defeat of departing from the Catherine Hall Entertainment Complex at 4:30am last night, I am steadfast in my determination to make it through the evening and greet the rising sun with reggae at tonight's show. To that end, it was a light day at the resort – with no activities purposely planned by the Jamaican Tourist Board to ensure we press guests would be fresh on our feet, I did a whole lot of lounging and napping before the 11pm pickup for the festival grounds. I'll fast-forward there now – let's get straight to the music, baby!
On our van ride, comparatively shorter than last night, professor Seani B still has plenty of time to get us learned. Tonight's topic is about dancehall instrumentations; as you may recall from yesterday's dispatch, the nature of dancehall's production means that there are typically only a few dozen backing tracks that become popular and ubiquitous in the genre at any given time. I had commented on my appreciation of how the band remained on stage between sets to provide background music and keep the energy high, but it turns out I had been missing some pretty crucial context.
One: while the band knew all the parts, they still had to memorize how each artist arranged them. Two: while there may only be so many popular tracks at a time, this is a festival featuring artists spanning more than just a single sonic generation of dancehall. I hadn't really considered it at the time, but the bands from Friday night's dancehall show had managed to download a ton of musical data across the many performers and keep it all straight in their head. And the shared backing bands would be facing an even more complicated task for tonight's reggae main event! Musicians really do continue to amaze me.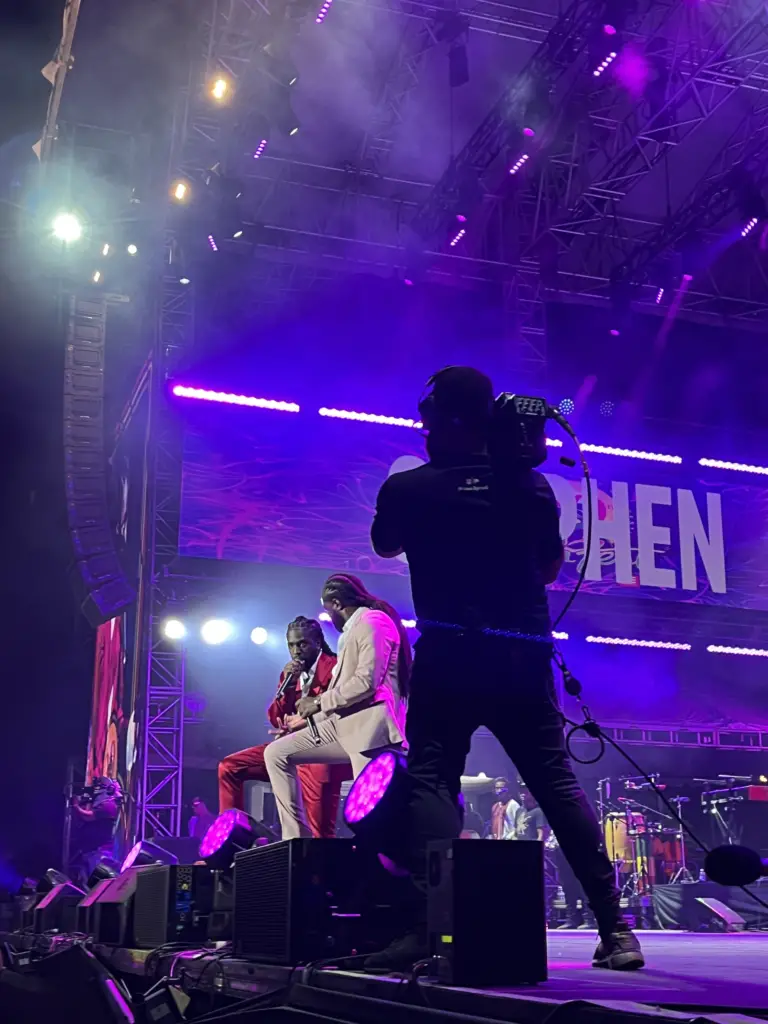 Since we're once again covering nearly ten hours of festival content this evening (and committing to viewing all of it, dammit), it's time to revisit my most loyal companion on this trip – my Notes app observations:
An early standout are D'yani and guest feature Jada Kingdom. Their collab "Feelings" elicits one of the first big crowd swells of the night, but it's actually Kingdom's solo performance of "Heavy!" – and let's be honest, the salacious accompaniment dancing – that truly get the plastic horns going. If I wasn't sure of her popularity during the set, the throng of hopeful interviewers following her around the media tent after the set are a surefire indication.
Where dancehall night only saw one band changeover all evening, reggae night has one every two or three acts for the undercard and between each act for the bigger names. Local DJs and entertainers are tasked with entertaining the crowd while the production crew swaps out instruments (a large shirtless man comedically gyrating along is a memorable and popular one), and many of the sponsor booths seem to have sprouted their own DJs as well. The local cacophonies around the venue perimeter are what I imagine sound clashes of old used to be like.
Stephen 'Di Genius' and Daniel 'Chino' McGregor are a pretty wicked tag team; the brothers produce one of the catchiest shows of the night for me. Their set is really elevated when they pause halfway to play a tribute video in introduction of their father, old school reggae legend Freddie McGregor. The elder McGregor suffered a stroke last December, but was still well enough to perform for the Sumfest massive this evening. His throne is simple yet commanding, a proper fit for one of the remaining earthside legends of the genre's golden age. As a family they perform old school classic from Freddie's Big Ship band days: "Big Ship Sailing", "Stop Loving You", and "If You Wanna Go" were my standouts. The crowd is united in their adulation for the McGregors, and Freddie's voice cracks frequently as he shares his emotional appreciation and gratefulness to the audience. It clearly took a lot to ensure the still-recovering 67-year-old could make it tonight, and Di Genius' tweet after the show says it all: "the most important thing for me Dad getting to feel the love of the people, getting his flowers in real time while he's still here and not after. Big respect to everyone <3 ONE SHIP." This was easily the emotional peak of the evening.
Morgan Heritage is one of the more sonically diverse artists of the night. There's a pretty strong Latin influence on Heritage's reggae, adding some spicier flair to the lineup's mix. The audience is a bit thinner tonight so I'm better able to see what's going on, and I'm pretty sure I even spot some salsa dancing in the crowd during this set.
Romain Virgo is an audience favourite and a bit of a dreamboat; I definitely heard some fangirling around me at the JTB booth when he took the stage. He takes a moment out of his set to address the rising incidence rate of domestic violence in Jamaica – unfortunately, figures like a doubling since 2020 are prevalent in online reports – and dedicates a song to the women and children of the nation. That, shortly followed by a huge "Stay With Me" cover, seems to cement Virgo's heartthrob status with the attendees.
Highly anticipated Kabaka Pyramid make his entrance just as it starts getting light out. There's an obvious buzz – the 37-year-old is hot off the win of a Best Reggae Album Grammy and Sumfest is excited to welcome him home. The Ethiopian Royal Standard (used during the reign of Emperor Haile Selassie, touted as the returned prophet of the Rastafarian movement) features heavily during the set, with flags breaking out in the crowd during "Red Gold and Green" and a full-sized version waved on stage by a dancer for the majority of the 60 minute performance. They must have arms of steel.
Minister Marion Hall appropriately closes out the Sunday morning slot of the festival, touting a tattered Bible in hand and lending a sacred tone as the sun breaks over the horizon. The set is part show, part service as the Minister blesses the audience repeatedly between and sometimes even during songs. I hear the Minister's crew are even giving away free Bibles throughout the grounds, but they're so popular that the stock is snapped up before I clue in and try to check it out for myself.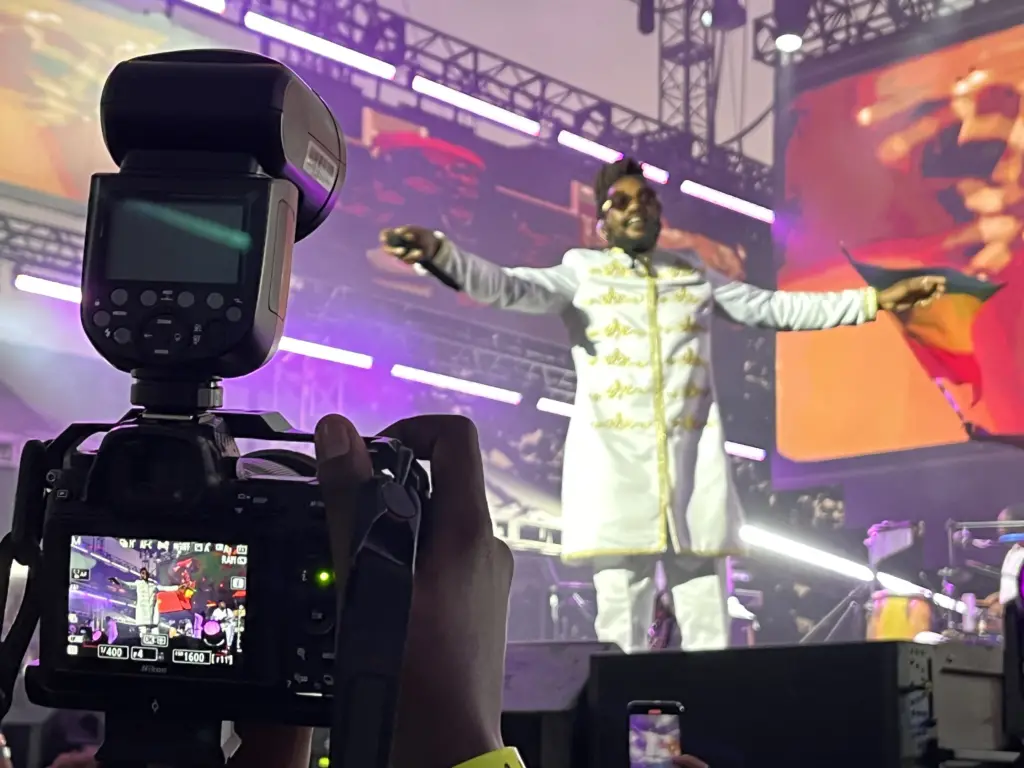 And suddenly…that's it. The sun crests the horizon of the hills surrounding Montego Bay, and I've successfully made it to the end of the morning. They call making it through the night at Sumfest being 'bleached' so maybe it's just the delirium talking, but it really does feel like I've undergone a spiritual journey via reggae festival. How could you not after quite literally dancing the night away?
The tour group picks our way through the field, the detritus of two long nights of partying beginning to be cleared away by staff and thoughtful patrons. I've noticed that there's a pretty significant lawn chair culture in Jamaica, and maybe these hours of the morning are why – more than a few tuckered-out festival-goers can be found passed out in their colourful seats as the sun continues to rise. We exhausted travellers clamber into the van and return to our respective rests, and my head finally hits the pillow just past 7am on Sunday.
I spend my final hours in Jamaica resting and recuperating at the resort's beaches and pools, reflecting on the unexpected and unforgettable journey Reggae Sumfest and the Jamaica Tourist Board have taken me on. I actually had a chance to speak with The Honourable Edmund Bartlett, Ministry of Tourism for Jamaica, on the final evening of the festival. He described how the island is enjoying a visitor increase of >6% over 2019, so the post-pandemic return seems to be in full swing – JTB guide Sedrecia endearingly refers to it as revenge partying. Mr. Bartlett credit's Jamaica's food, music, and vibrant hospitality as pillars of its tourism industry, and I am fully inclined to agree – this isn't a trip I won't soon forget, and hopefully a place I can return to soon enough. If you get the chance, I whole-heartedly recommend getting bleached at Sumfest!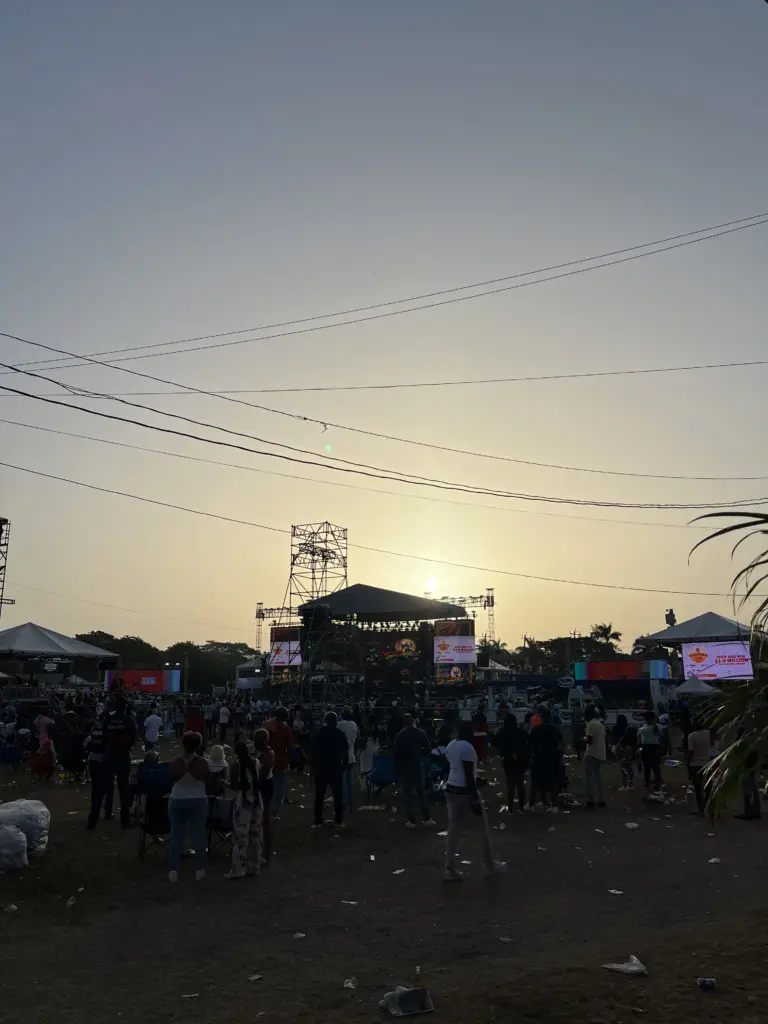 Big thanks to Christopher, Sedrecia, Candice, Fiona, Aneif, and the rest of the Jamaica Tourist Board for all of their support and hospitality during this adventure. If you're interested in travelling to Jamaica, perhaps even in replicating this trip, head to visitjamaica.com for more information.
Thank you for reading, until (hopefully) the next time!
[Mat is a guest of the Jamaican Tourist Board. His thoughts and impressions are his own.]