A Dispatch from Reggae Sumfest 2023: Thursday July 20th
Alan is invited to a lot of events. Like, a lot of events. So many, in fact, that he can't attend them all. I suppose that just comes with the territory of having a big ole radio show, hey? Typically however, when Alan isn't available to attend an event he politely declines and the inviter/organizer usually shrugs their shoulders, says "maybe next year," and extends the invite to a different candidate. This time though, when Alan couldn't attend Reggae Sumfest in Montego Bay, instead of moving on the Jamaica Tourist Board (JTB) offered the spot to A Journal of Musical Things writer instead.
So lo and behold that is how I, once-intern-now-contributor-and-generally-stoked-to-be-here Mat ended up dropped in the middle of the biggest freaking reggae festival in the world. And in exchange for the generous offer from the JTB, how about let's explore my time here and all that the island has to offer? Yes, let's.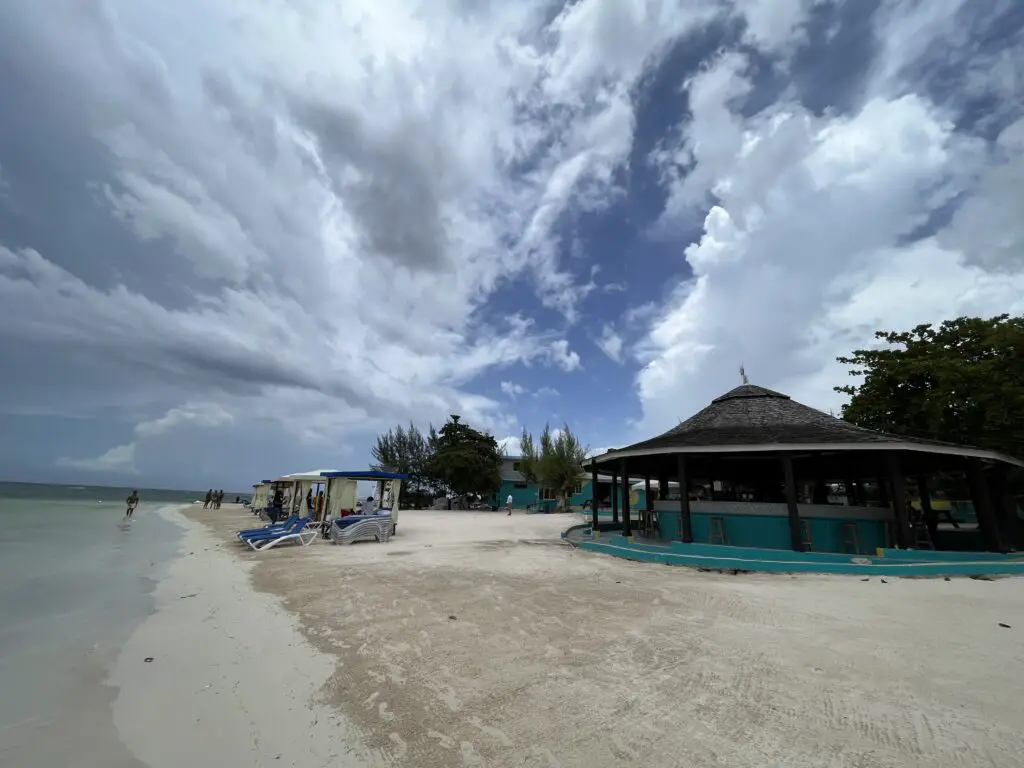 So, let's start from the top. I was actually supposed to arrive in Jamaica at about 11am on Wednesday, but Air Canada (completely unsurprisingly) did Air Canada things and my flight ended up being delayed by… pause for dramatic effect… eight hours. Ouch. I wasn't the happiest camper on my way down to Jamaica, but what can you do – shit happens and paradise awaited, so that's enough breath spent on those hiccups.
Despite landing after the sun had set, I was still met with an outpouring of island hospitality as soon as I stepped off the plane. JTB staff made me feel like a VIP, greeting and whisking me through customs and off to meet the tour's driver, Aneif. Yes this tale has barely started, but already I've come across a detail I really wanted to make sure to share: Aneif is the bomb.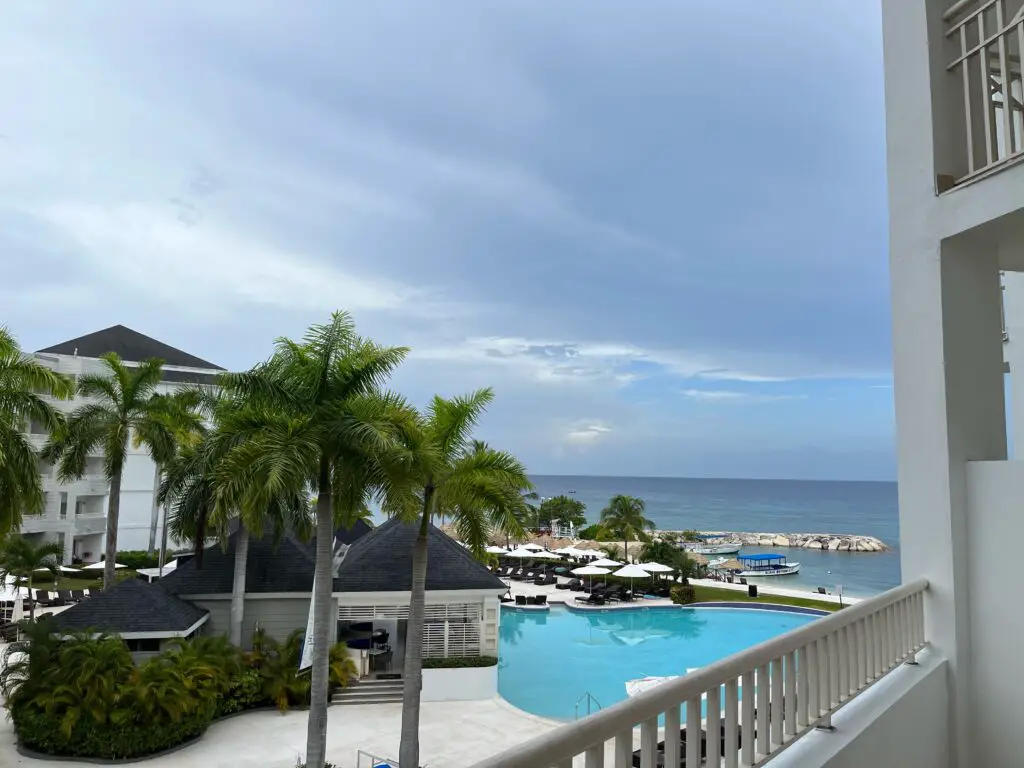 When I shared my inclination to listen to ska, he set off on a breathless interlude about ska's history, ties to reggae, and highlights of the genre around Montego Bay (did you know Usain Bolt owns a restaurant that doubles as a record store, and ska is one of his favourite genres? well, neither did I) and things we could try hit up in our spare time. It was a thrilling introduction to the passion for arts I've seen time and again in these short few days, and set the tone for the calibre of, just, really awesome people I'm encountering along the way. Aneif's evening drive and the blessed shower that followed completely washed away the stresses of a travel delay twice as long as the flight itself. Unfortunately the delay meant that I missed the first scheduled night of Sumfest reverie on our itinerary, but I was reassured there was plenty more to come so the bonus rest was well worth it.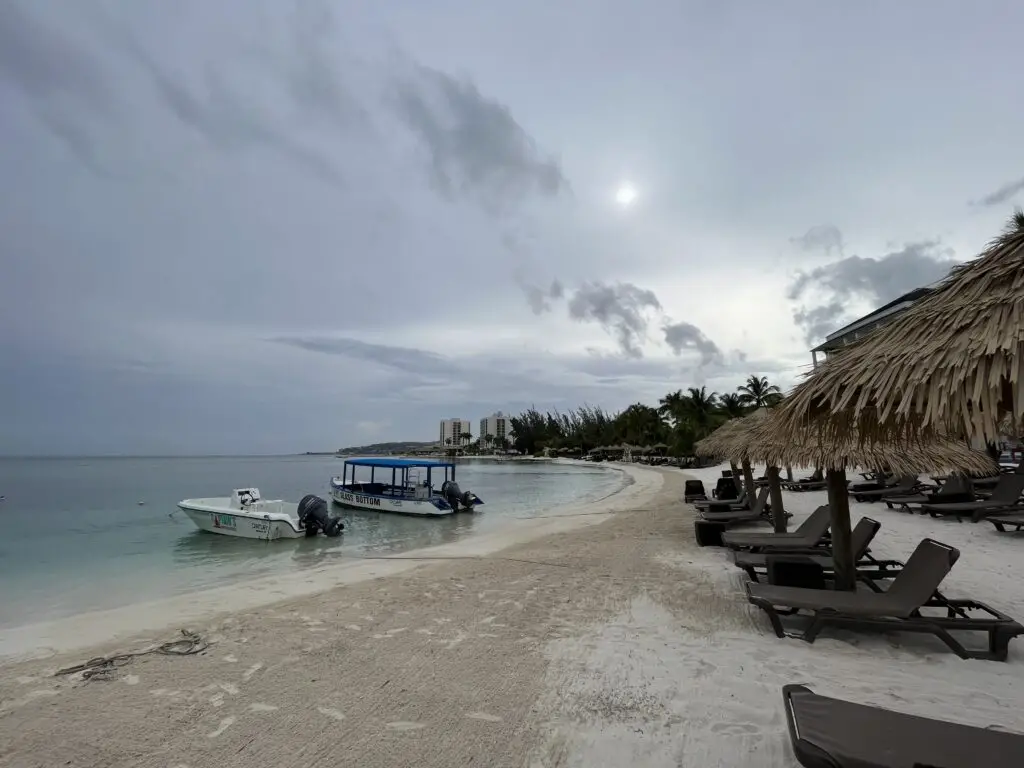 Cue the real and true day one of my time in Montego Bay. I wake up in my suite at host resort Secrets St. James and am just stunned by the ocean view. This is definitely not the calibre of accommodation ole Mat usually experiences on his travels! There are lithe minuscule birds flitting amongst shimmering palm trees (my bird-identifying partner believes them to be cave swallows), the sound of the gentle folding of waves amongst kilometres of beaches, and a cornucopia of fresh fruits to eat and drink at every counter around the all-inclusive resort.
I don't deserve this, and I take in every blessed moment anyways. Our tour itinerary has left space this morning for personal time before departing for the day's activities, so I make the most of the breakfast buffet and beachside loungers before preparing for a trip to Tropical Bliss Beach.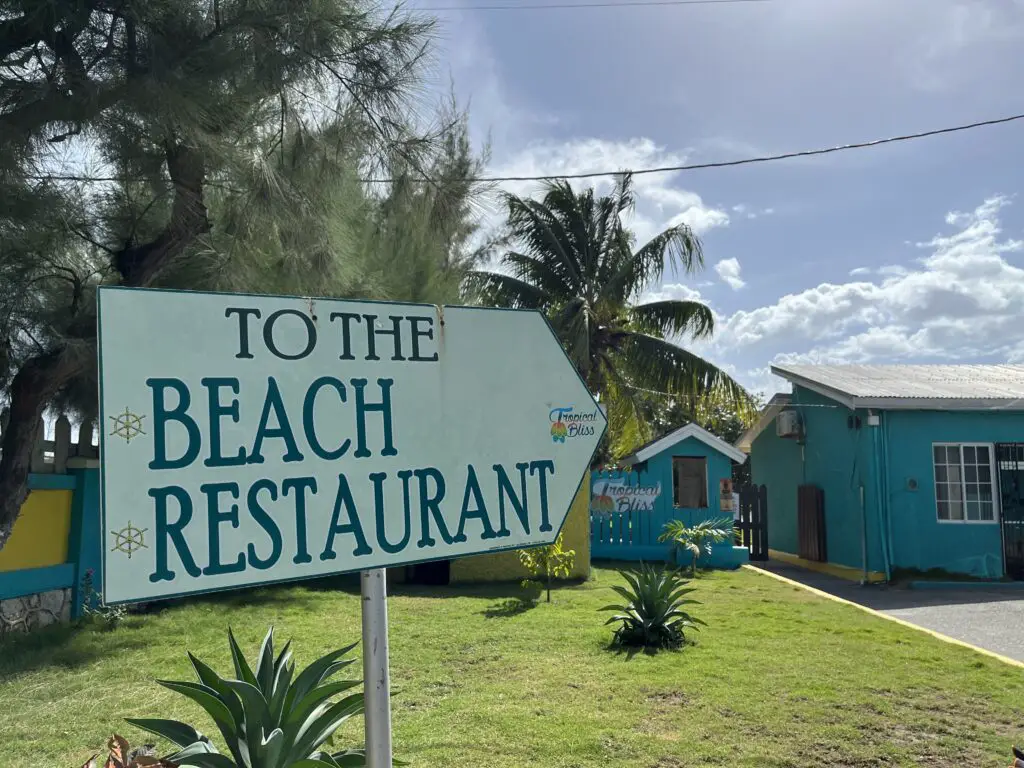 Tropical Bliss? Yes dear reader, the beach is aptly named. I am reunited with Aneif and meet the rest of the tour group, including JTB guides Christopher and Sedrecia, as we make our way to the private stretch of sand tucked just behind Sangster International Airport. Along the way Christopher points out some of the new public access leisure amenities Montego Bay has been building for its locals, and I am happy to report that private companies like Tropical Bliss follow a similar principle – in this case, essentially offering a resort-like oceanside experience at an exceptionally reasonable price. I never feel quite right having exclusive opportunities as a tourist, and was quite pleased to hear from Topical Bliss owner Brian Thelwell that there's a roughly 50/50 balance of vacationers and citizens making use of his offerings. Christopher believes that balance is spreading to the rest of the city as well, which is great news in my opinion.
And oh, the offerings! Our group enjoyed a cabana steps away from the Caribbean waters, complete with fresh drinks and a healthy serving of jerk chicken (naturally) and festival (like fried cornbread, but lighter and less sweet) for lunch. We spent about five hours soaking in the sun and sand, lazing in the light current and watching both jet ski and passenger plane zip by on sea and wind. A particular highlight was going for an inflatable tube ride with fellow tour group members, a British father and son duo who had never tubed before.
I suppose it's a bit of an Ontarian right of passage to go tubing at some friend's cottage in the summer since everybody I know is well versed in how not to get dumped during a speedy ride; the Brits had no such instincts, but they valiantly held fast and laughed through the torrent despite being buffeted by salt spray and grabbing air on several occasions. At one point our mischievous pilot even parked us directly under the approach to the aforementioned airport, where we were treated to a passenger jet descending for landing some two hundred metres above our heads. I never would've predicted feeling the exhaust of an aircraft engine while sitting on a tube being a highlight of the trip, yet here we are.
We were all pretty wiped after the afternoon in the sun, so we were returned to our hotels for some downtime before setting off for the first Reggae Sumfest event of the week. Yes my friends, we are indeed getting to the music. Our first event of the festival is the Global Sound Clash, which might need some primer. A sound clash is essentially a battle of the bands, but for deejays: artists assemble their own exclusive dubs (custom remixes, named for the dub plates printed on the inners of the vinyl), riddims (backing instrumental-only rhythms of popular tracks that have custom lyrics recorded or ad-libbed over), and crews and take to the stage in a part skills showcase, part rap battle, part popularity contest.
The rules are strict, but simple: each of the five participating artists get two rounds to appeal to the crowd before elimination begins; sets must be no longer than ten minutes and decrease with each subsequent round; and no profanity or inappropriate gestures or topics are permitted. The audience is the judge, jury, and executioner – a show of hands and round of cheers determines who goes on in each round. And because this is the biggest reggae festival in the world, it follows that this is the biggest sound clash in the world: the prize is over a million Jamaican dollars and immense global bragging rights.
The stage is set, then. We arrive at the venue just before 11pm, an outdoor lot just off the water in the heart of Montego Bay. The atmosphere is, frankly, a little overwhelming – I didn't realize the gravity of the competition until many hours later, but there is clearly an apprehensive buzz in the air. The thousands-strong crowd is filling in and filing forward, tension steadily growing. Independent merchants weave through the audience, carrying their wares in improvised buckets and boxes overflowing with…lollipops, chewing gum, paper cones of peanuts, and towers of plastic toy horns? OK, intriguing. An opening deejay has clearly already been on stage for a while, sweating over his soundsystem in the 30 degree heat as equally slick dancers in orange dresses rotate through leading routines.
The air is sweet with tobacco (yes, mostly tobacco – marijuana is illegal in Jamaica, set aside that stereotype) and the bass is so loud that the earth I'm standing on, not just the structures planted on it, is rumbling. Apparently hearing the bass from miles away is a sound clash tradition, and thank god I've brought earplugs because my internal organs are feeling it. The sharp-tongued MC takes the stage to introduce the competitors and reiterate the rules, and away we go.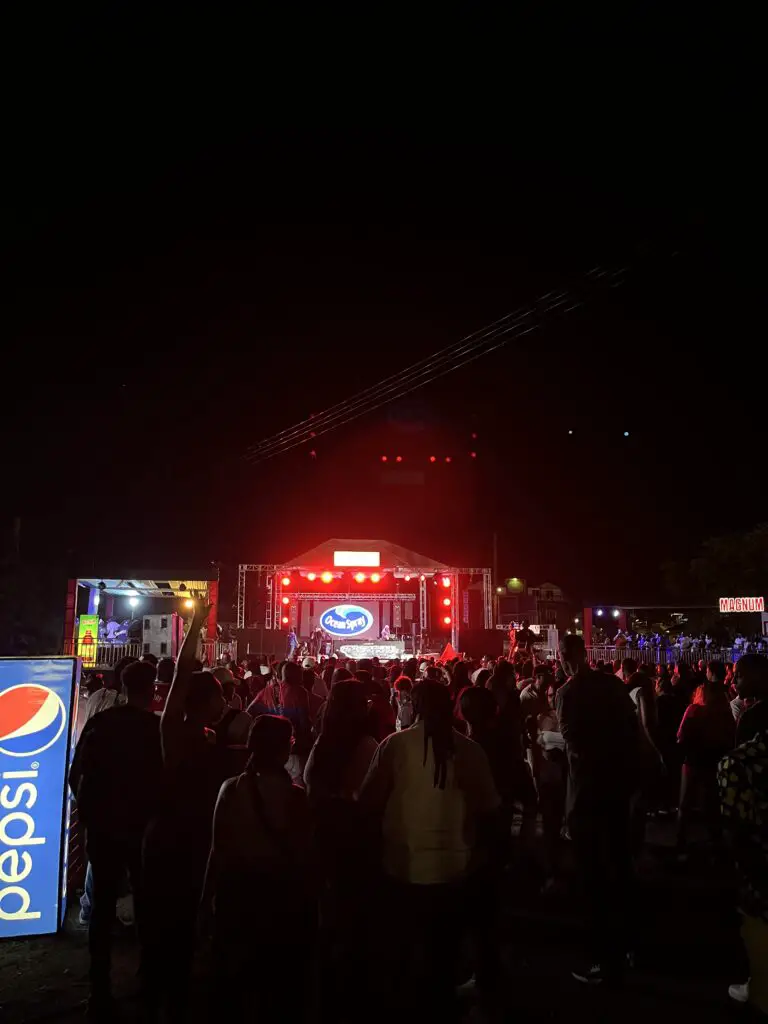 The word that comes to mind to describe Reggae Sumfest's Global Sound Clash is enthralling. This is decidedly not the kind of reggae I'm used to, but I can't help but be swept up in the spectacle. The style of performance is very foreign to my North American sensibilities: instead of the typical song plays, audience cheers, rinse and repeat cycle I'm so accustomed to, the deejays and their crews are firing off 10-to-45 second samples of each song interspersed with disses, audience addresses, freestyle raps, jokes, and personal stories. The crowd interacts in kind, cheering or jeering or tooting those endearingly annoying plastic toy horns as the competition heats up. Samples cut shorter, disses cut deeper, and the judges hiss and brap (like, brap brap gunshots, fingers miming triggers held to the sky) in turn. There's a noticeable contingent of Japanese fans draped in the rising sun cheering on their countryman competing this evening; he actually has my favourite lyric of the night, "Japanese live like rasta, no beef no pasta." However, it's not until competitor number four, Dynamq from South Sudan, whips out hit after hit to activate the crowd that I finally clue in to the real undercurrent of this particular sound clash.
For a while, I thought the crowd around me was either hostile or bored. In reality, it's neither – they're just discerning and immensely difficult to please. It's a hilarious moment of clarity – there must be close to ten thousand people packed into this lot, but not until Dynamq irrevocably wins their hearts do I feel their roar…before dying back down for the next competitor. Yes there are big swells here and there, but it's really the MC the other competitors lovingly dub "The African" that brings this crowd the joy they're looking – and voting – for. On the car ride back to the hotel, a conversation is sparked between myself, Aneif, and a fellow tour grouper: The African's magic tonight seemed to lie in his ability to alter his song selections on the fly, landing on popular songs that also had thematic or lyrical responses to key events of the evening such as a particular diss, crowd response to a similar tune, or similar offering from a dub's original artist. It's a world of performance intricacy that I had little to no experience in going into the evening, but easily took hold as an unforgettable spectacle.
A bit of inside baseball for you here, reader – I'm actually writing this dispatch the morning following the sound clash. I found myself falling asleep on my feet at around 2am (what felt like 4am to my still jet-lagged body) and asked to be returned to my hotel as the third of five rounds concluded. My intention was to wash up and immediately put my memories to paper last night, but Sumfest wasn't quite done with me yet for the evening. As I started to draft the first few sentences of this article and look up titles and names on Google, I stumbled upon a livestream of the Global Sound Clash. And as luck would have it, I tuned in just as the final round was coming to a climax.
Dynamq and Jamaican crew CodeRed were trading blow for blow, only getting about 30 seconds to speak and sample before the crowd voted in a best-of-10. The 3000-participant-strong livestream chat was at a fever pitch, and clearly the in-house crowd was well beyond that point: it was difficult to hear the deejays at times as audience members were literally rushing the stage, jokingly trying to clamber up and earnestly tossing cash into the ring (apparently this is a sound clash tradition as well). Instead of beginning my writing I stayed tuned in to watch the final drama, as Dynamq appeared to sweep the final set of votes and openly wept on stage in response to the overwhelming crowd appreciation. I finally hit the lights at 3:30am, having surrendered myself to the drama and impact of Reggae Sumfest's 2023 Global Sound Clash. I simply could not look away! Phew! OK, that was day one. Thank you for reading, and be sure to check back soon – more coming shortly!
[Mat is a guest of the Jamaican Tourist Authority. His thoughts and impressions are his own.]