A Funny Thing Happened to Me on the Way Back from a Music Conference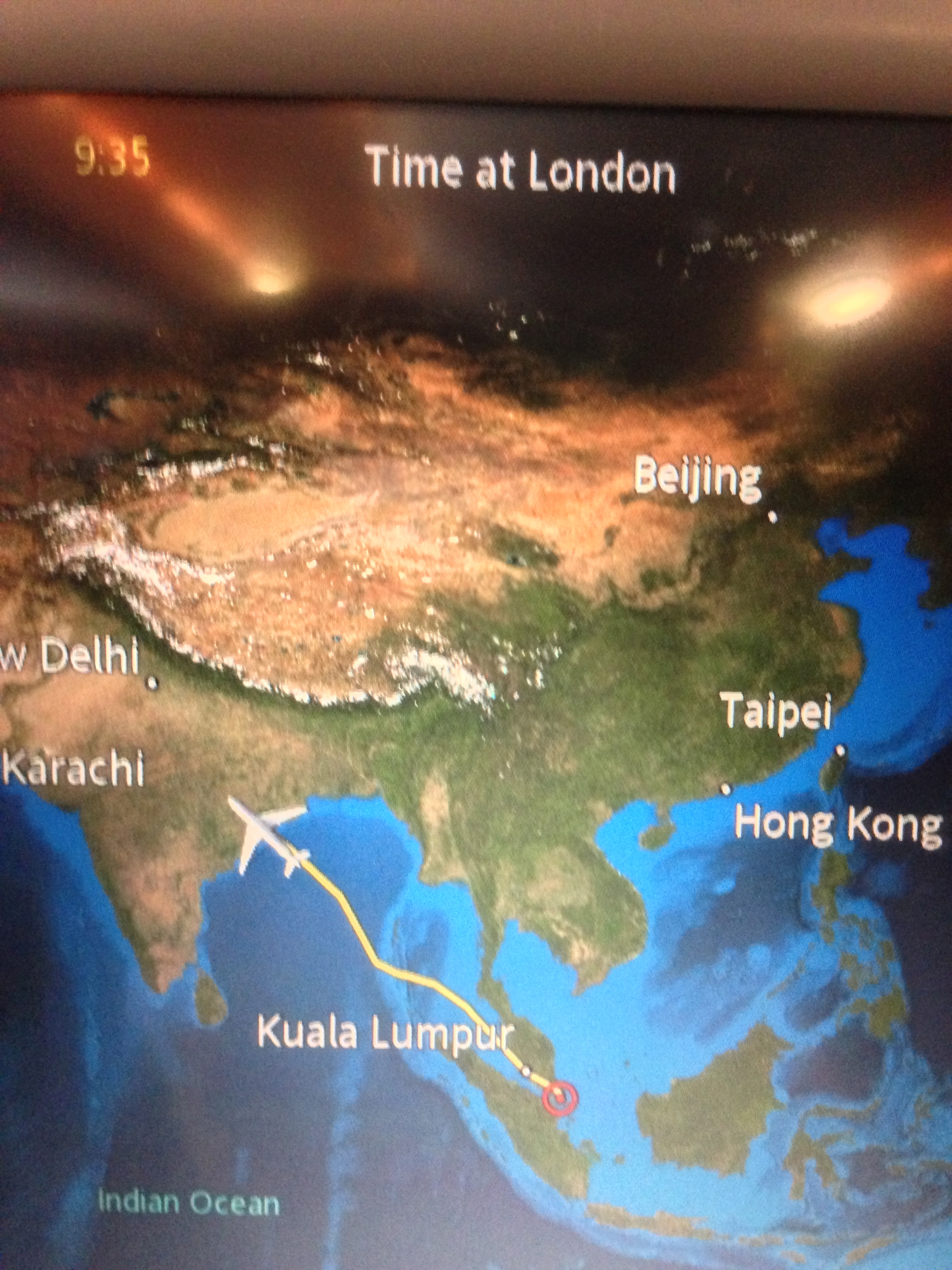 See the jog in the flight path? That's where it all went to hell.I've flown millions of miles in my life. But nothing like this has ever happened before.
After a week at the Music Matters conference, it was time to head home. Singapore Airlines flight 308 left Changi Airport on time at 9:05am local on Sunday, May 26.
We were about two hours out and in the middle of breakfast service on what we were told would be a routine flight with the occasional bouts of turbulence. As the flight attendants were finishing up with distributing breakfast on the lower deck of the A380-800—I was in seat 45D—the "fasten seatbelt" like came on. And sure enough, there was a little bouncing about.
About two minutes later, the lead flight attendant announced that meal service would be suspended until the aircraft had passed through the bumpy airspace. You can't be serving hot coffee and tea in conditions like that.
Then about a minute or so later, the captain came on.
"FLIGHT ATTENDANTS TAKE YOUR SEATS IMMEDIATELY."
I remember thinking that that his tone was a bit odd–a little too urgent and harsh, maybe.
That's when the clear air turbulence hit.
It was like being in an elevator with a cut cable or free-falling from some amusement park right. Everything that wasn't tied down (including a couple of people) literally hit the ceiling as the plane suddenly dropped. (I later learned that it was probably 15-20m, but it felt much further.) The result was the mess that you see in the pictures.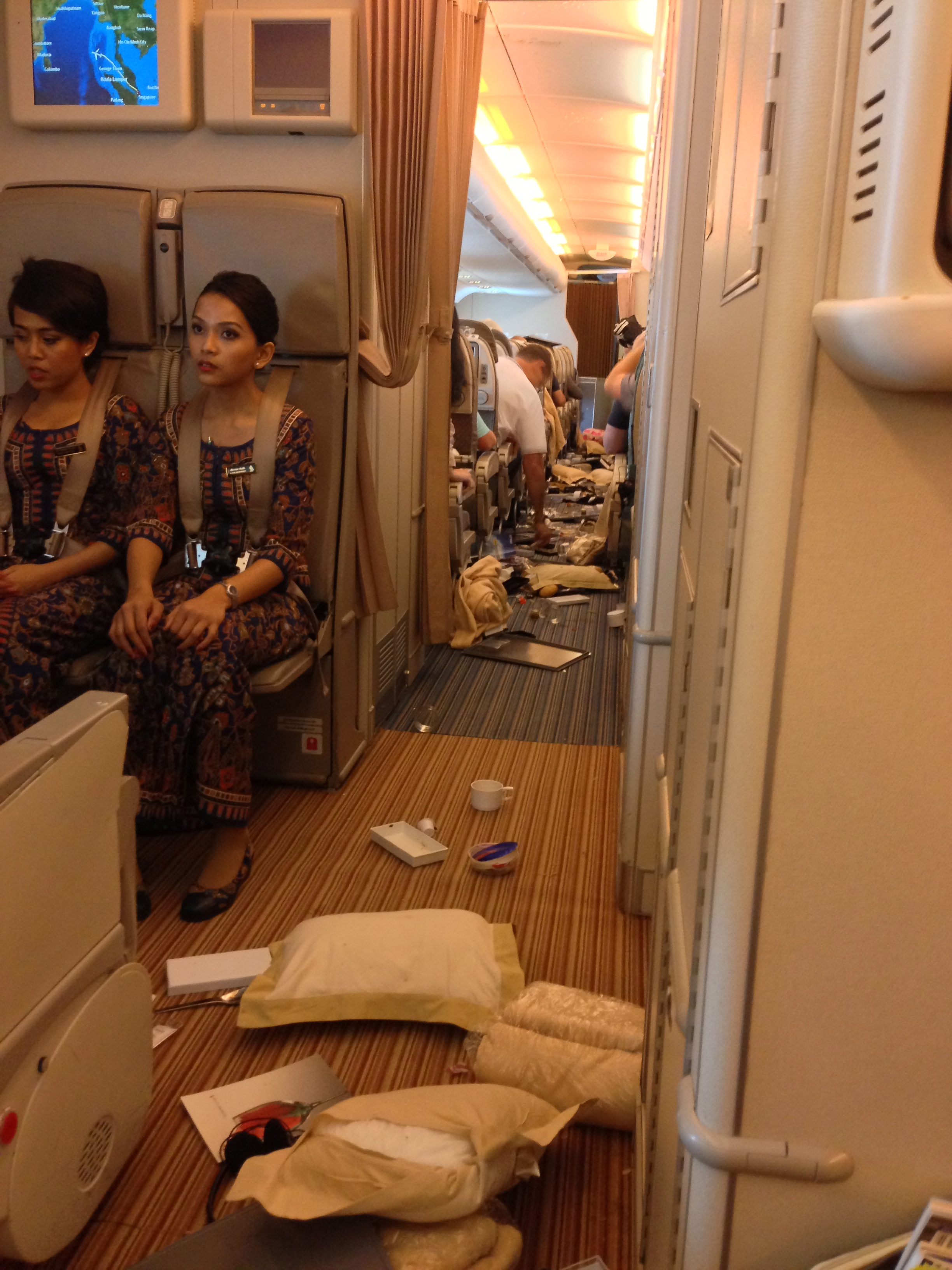 The cabin seconds after the turbulence hit.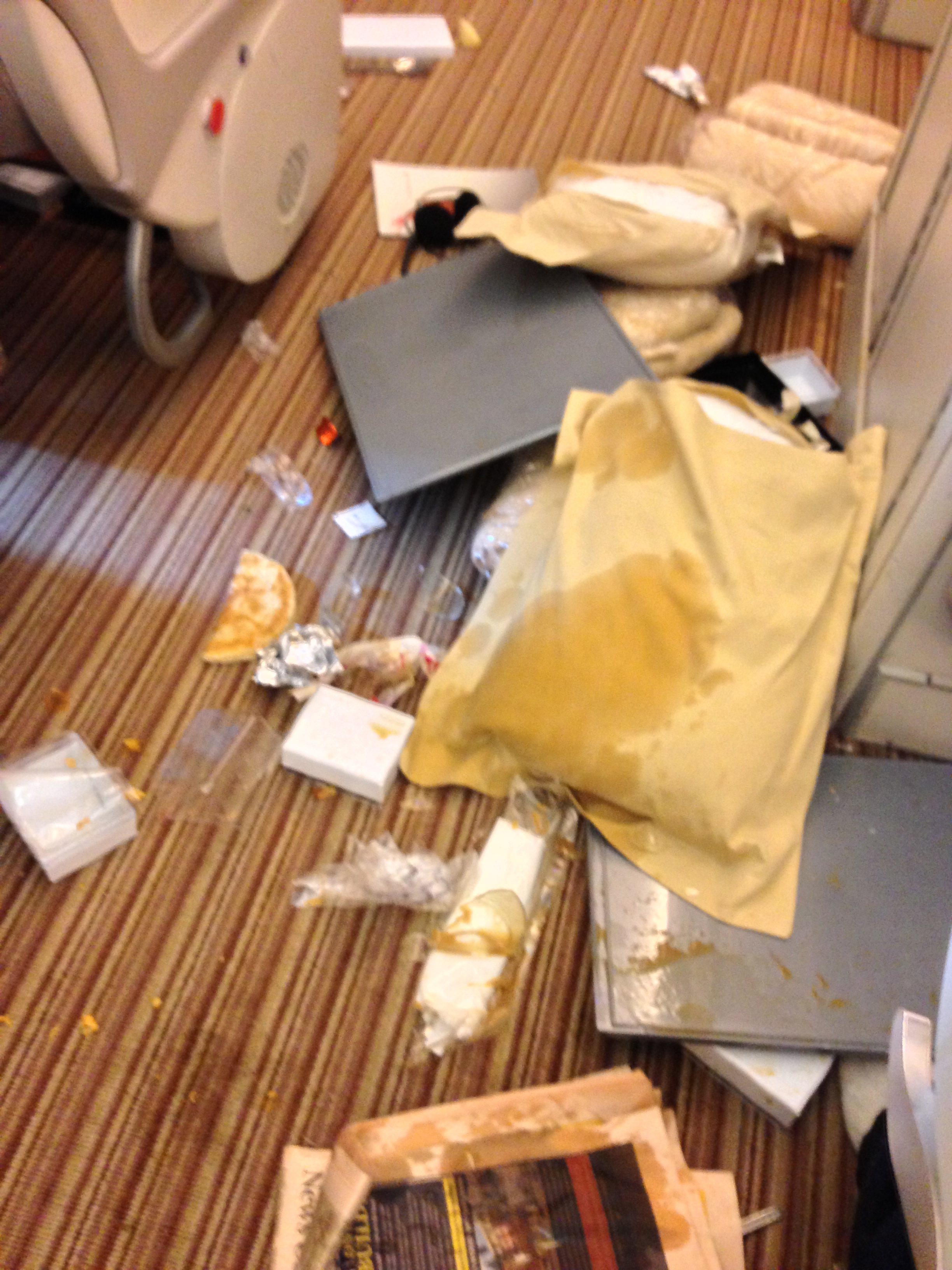 The view forward from 45D.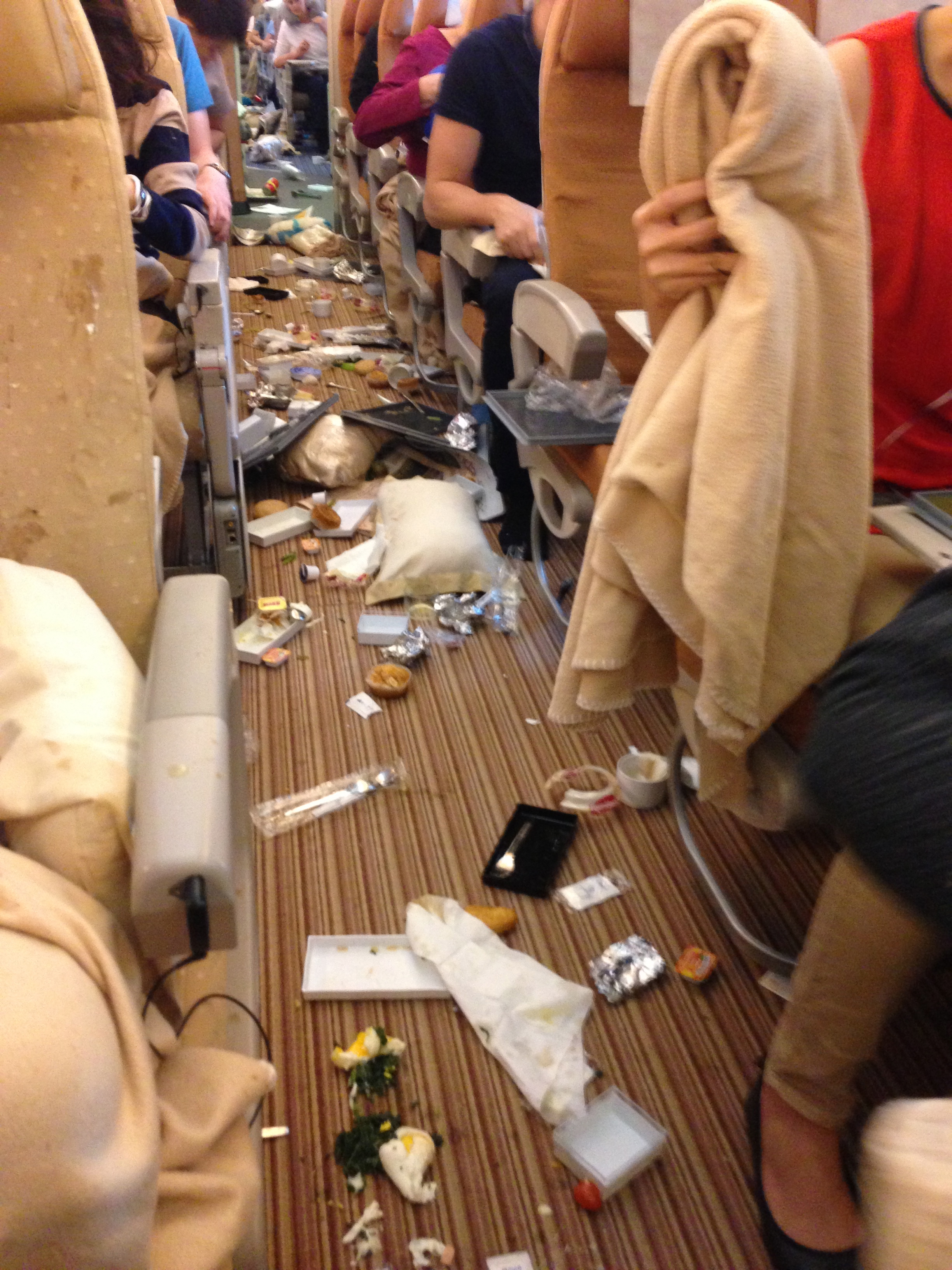 View rearward.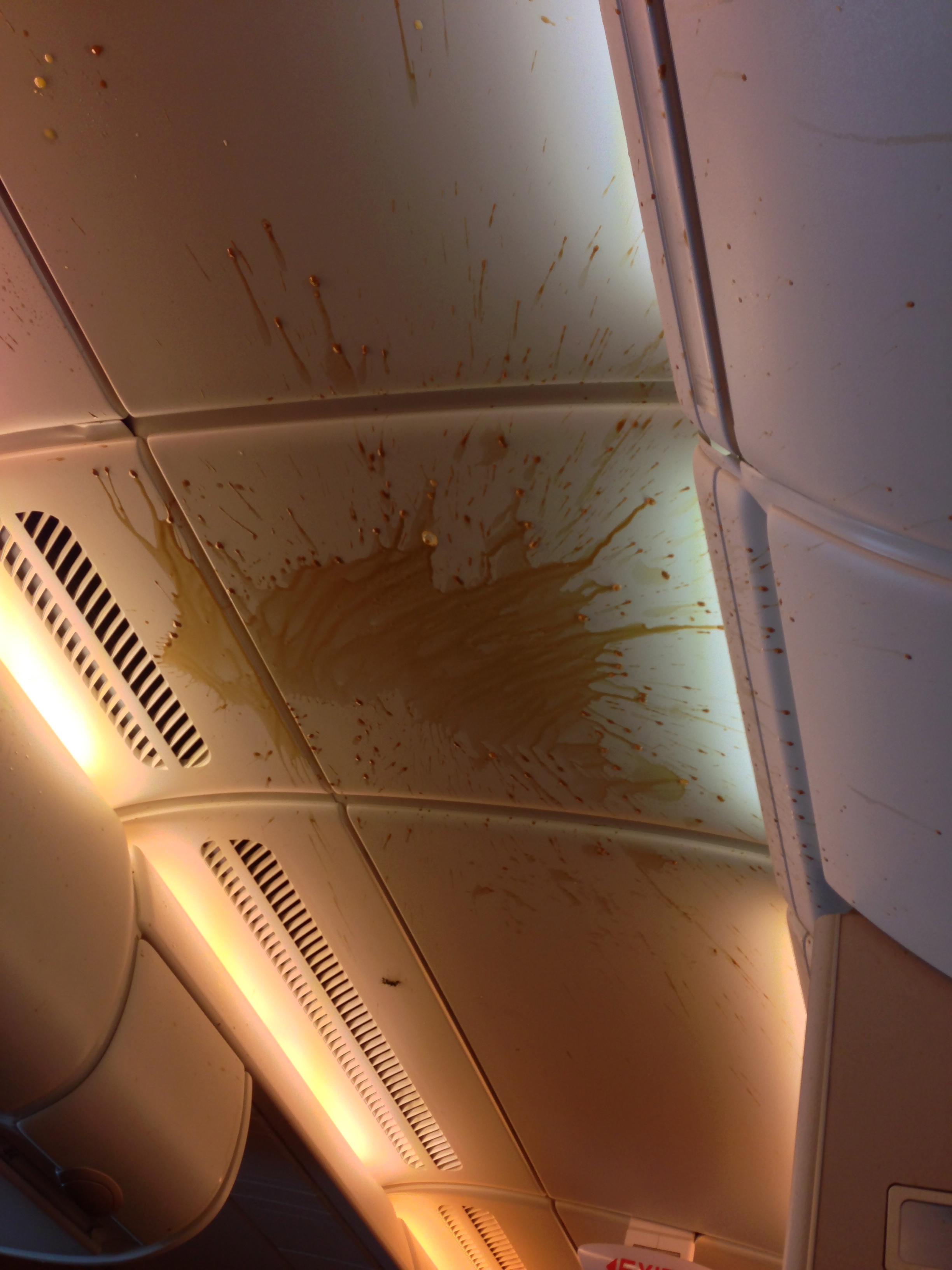 That's my morning coffee on the ceiling.
I found someone's half-eaten breakfast sausage down the back of my shirt.
Things smoothed out almost as quickly and the flight attendants immediately started checking to see if anyone had been seriously injured. Thankfully, everyone seemed all right. Then the crew started the clean-up, beginning with clearing the aisles of debris and glass, followed by wet towels for the passengers. Then they went to work.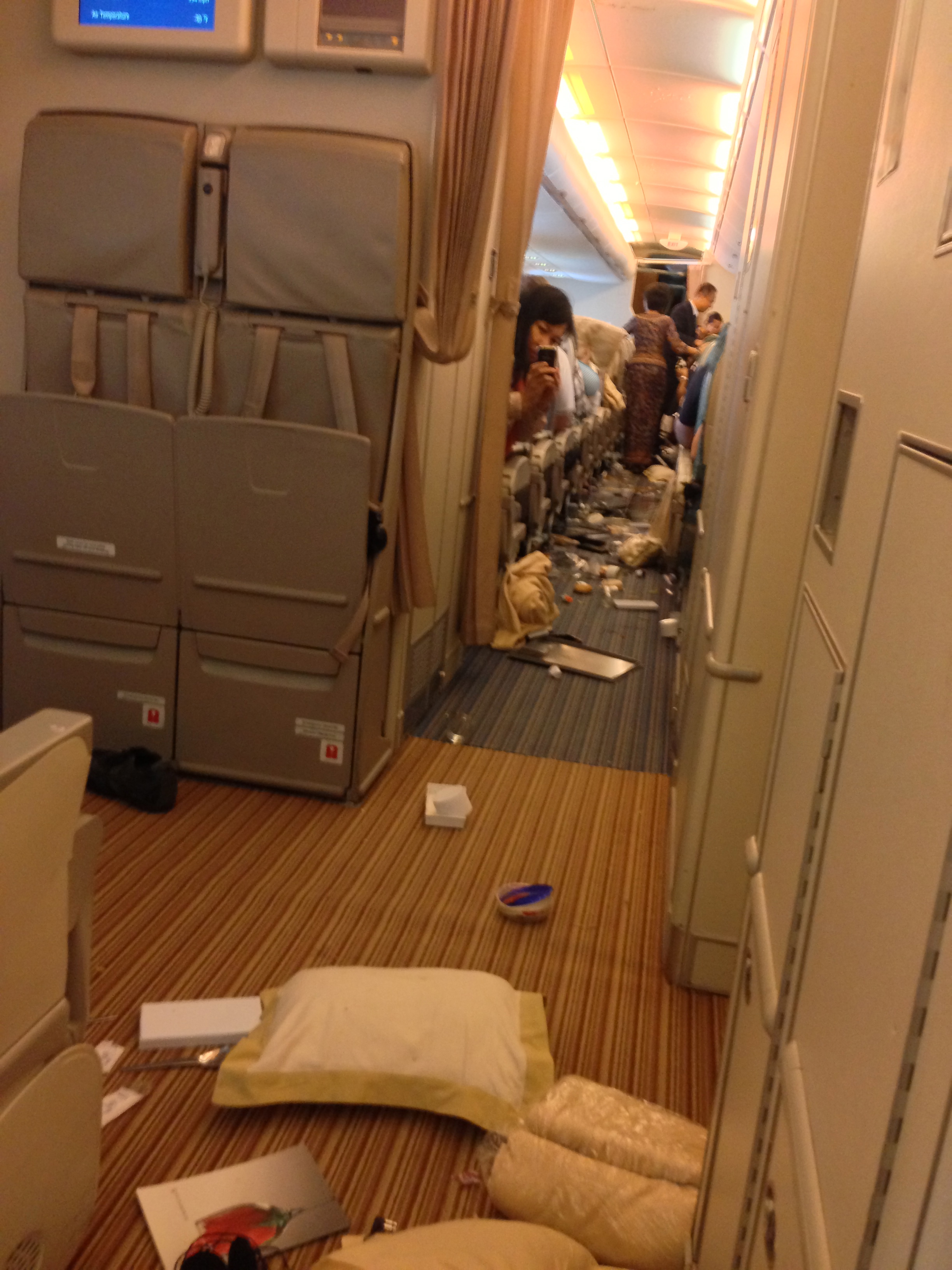 Here's what they started with.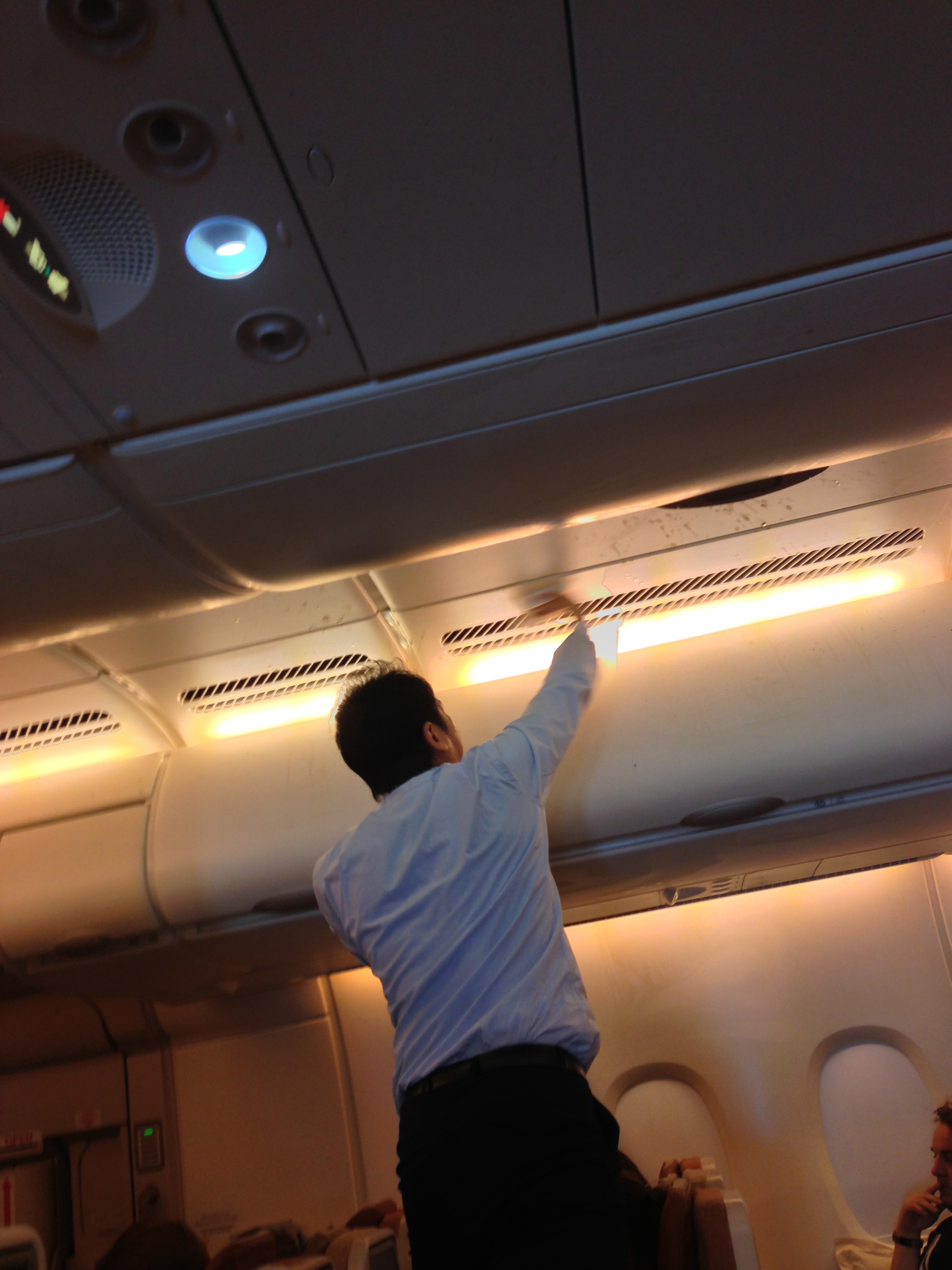 Cleaning and wiping down was done with much speed and gusto.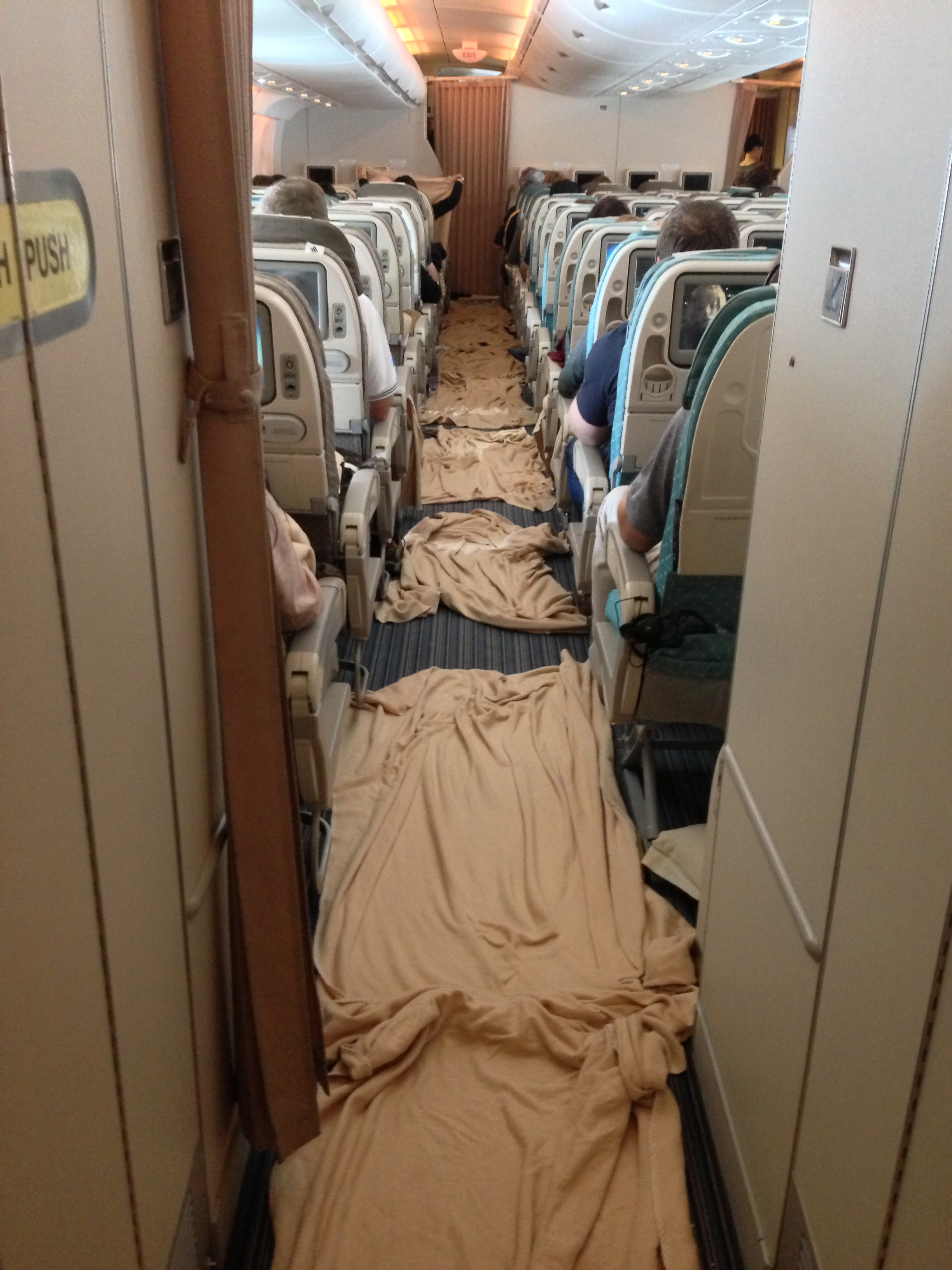 Blankets were put down to absorb goo and to protect against broken glass.
Within about an hour, the cabin was almost 100% back to normal. There were some coffee stains on the ceiling and people were finding bits of food in strange places (I found someone's half-eaten breakfast sausage down the back of my shirt), but the flight continued as usual for the next 10 or so hours.
View forward after the cleanup.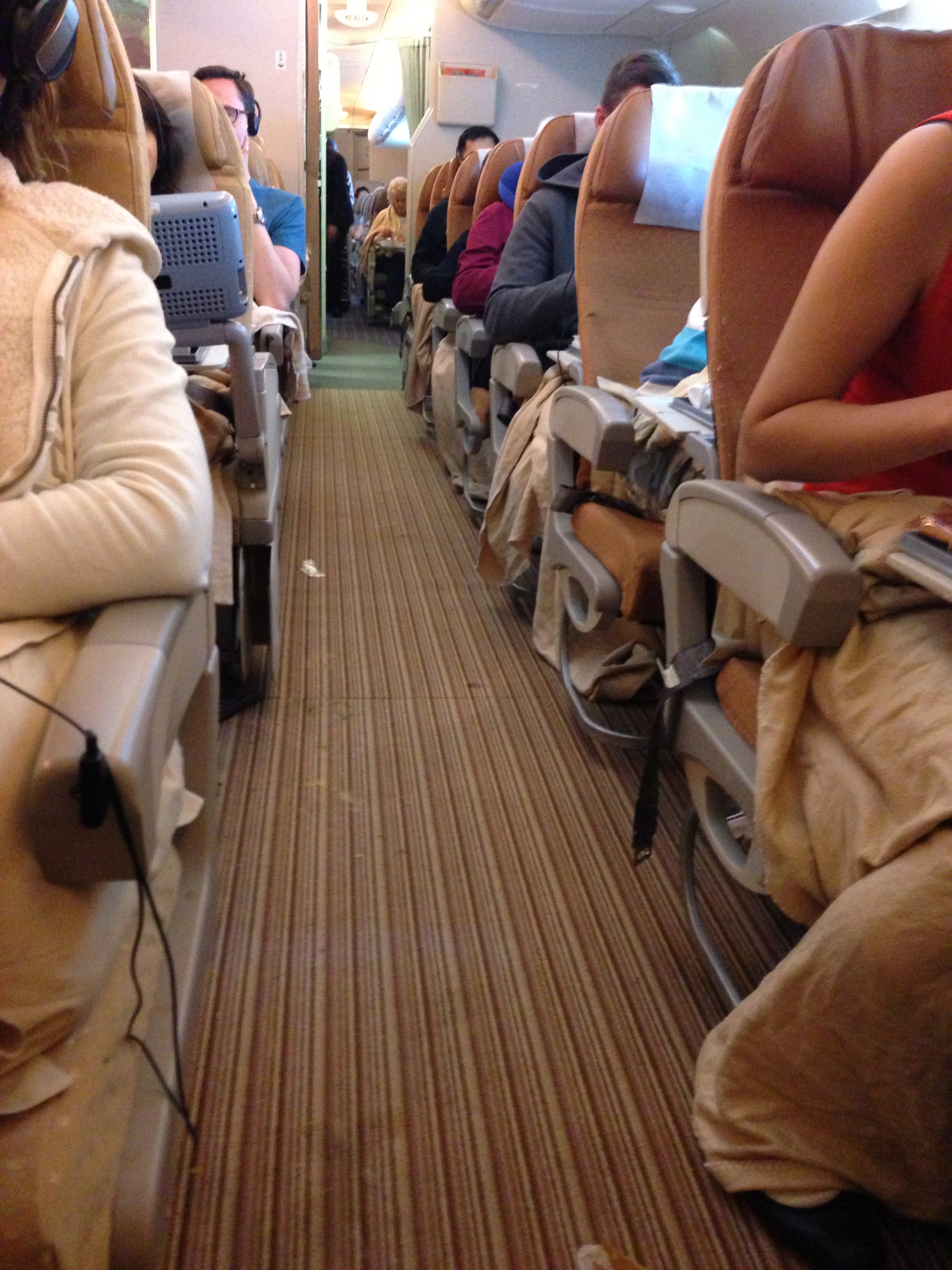 Yes, this is the same flight. Remarkable.
When we arrived at Heathrow, we all remained on board for about 25 extra minutes while paramedics came on board to check on everyone. Once that was complete, we were allowed to disembark where at the end of the jetway, Singapore Airlines staff were handing out big boxes of chocolates to every passenger.
Clear air turbulence cannot be seen on any weather radar, so the flight grew wasn't at fault. The cabin crew was amazing in the aftermath—as were fellow passengers who helped everyone around them a calm and efficient clean-up. And the chocolates were a nice touch from the airline. That's why Singapore will remain my favourite carrier in the world.
That's part one of the story. Part two involves all those pictures I took. It's a study in virality.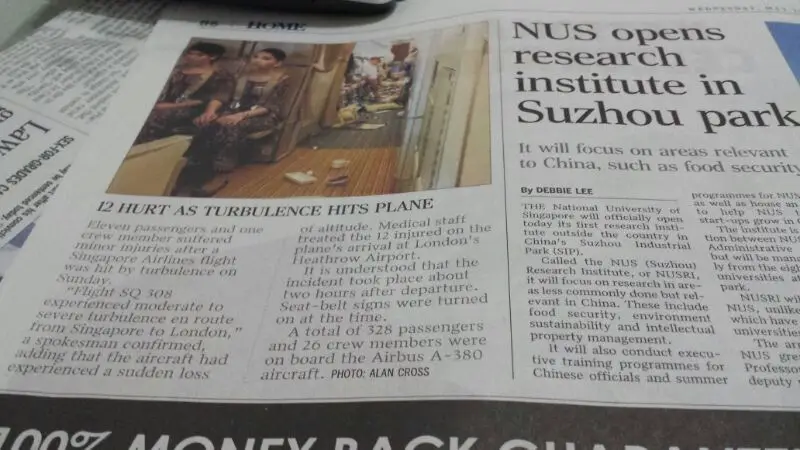 When I got to London, I posted everything on my wide-open Instagram account (look for me at alan_crossx). From there, things just kinda went…crazy–and without any intervention on my part. Media outlets all over the planet, both print and digital, picked them up.
Some asked for permission first. Some used the photos and asked for forgiveness later. Others didn't ask or acknowledge me at all. Most gave me a photo credit. I really don't care, but I do find it fascinating how something taken from seat 45D of an airliner 34,000 ft over the Adaman Sea can quickly go global.
CNN (both US and CNN International)
Fox News Channel (with video!)
SVT.se (Swedish television)
Plus there have been inquiries and/or coverage by NBC (including The TODAY Show, NBC Nightly News and Rock Center), the BBC, Channel 4, Global, CP24, Fox Travel and a UK outfit called Real People.
If you happen to find any more links about the story, please forward them to [email protected], okay?