A Historical Account of How Turntables Were Used to Make Music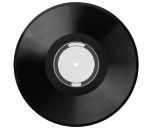 Like most people, I thought that modern turntablism had its roots in the scratching and mixing propogated by early hip hop and rap pioneers. That would be incorrect.
Using turntables as methods of creating (and not just playing back) music goes back much further as this artcile at the Canadian Electroacoustic Community points out. Hint: this would be a great essay topic for someone.
Turntables and vinyl records are the familiar equipment of a DJ in bars, clubs and festivals — still today. Even CD players, laptops or other digital technologies have not managed to replace record players in the last few decades. The turntable owes its popularity — and probably its salvation from certain doom at the hands of new playback devices like the CD — largely to hip hop culture. In the 1970s, DJs started to mix, sample and scratch the sounds on vinyl records and a new genre arose: turntablism.
1. See the Turntable [wiki] area "Performance Techniques" published in parellel with this issue of eContact! for a description of the basic techniques used.
Turntablism refers to the idea of misappropriating a turntable and using it as an instrument. The term has its origin in the word "turntable" for a record player and was established in 1995 by DJs in the hip hop scene. Since the 1970s, the turntable has been used in the hip hop scene with popular techniques like scratching andbeatjuggling. (1) Meanwhile, turntablists have developed and established their own techniques in many virtuosic forms. At the same time, as more and more sound artists have pursued the experimental approaches practiced by avant-garde and Fluxus artists through the use of modified forms of the turntable (for example by using preparations or objects), an experimental turntablism has developed.