It would be kind of tough, given that the singer (Layne Staley) and founding member and bass player John Baker Saunders are both dead, but Mike McCready (still very much alive) is thinking seriously about some kind of reunion.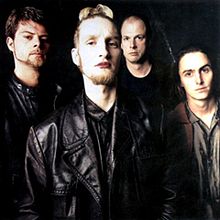 The Grunge Report relays these comments from Mike:
On Mad Season's unfinshed album and recently working on some of the songs with Duff McKagan: "We started our second Mad Season record—we were going to call it Disinformation—about a year after Above. Now [R.E.M.'s] Peter Buck was part of the process too. Layne never showed up, so we ended up finishing 13 [instrumental] demos. I'd listen to them periodically and think, "I wish that something would happen with this." I was in the Pearl Jam vault just looking around and saw the two-inch reel to reel tape of Mad Season: Live at Crocodile Cafe and I was kind of shocked—I forgot we recorded that. That was our record release show. I started talking to Barrett and the Mad Season stuff started coming up.
Around that time he called Mark and said, 'Hey are you interested in singing for any of these tracks that we did from back in the day?" Mark was interested in singing on three—"Slip Away," "Locomotive," and "Black Book of Fear," which is the one that Peter Buck plays on and pretty much wrote. We were like, 'Yes! Finally!' Then Barrett and I got together with [Guns N' Roses bassist] Duff McKagan to rerecord and tighten up some of those old Mad Season tunes. We've been trying to find somebody to sing over those, because Mark is busy doing solo stuff this year. We got Jaz Coleman from Killing Joke."
On if the project using songs from Mad Season's unfinished second album will be called Mad Season: "I don't know if it's going to be called Mad Season… We'll see what happens."