UPDATE: Neil Peart's drumkit from the 70s has been sold at auction for BIG $$$.
After successfully auditioning for Rush in the summer of 1974, Neil Peart went to a local Long & McQuade and bought a silver Slingerland double-bass kit. Starting with a show in Pittsburgh on August 14, 1974, when Rush opened for Manfred Man and Uriah Heep, Neil hauled that kit around with the band until 1977, something that included the sessions for the albums Fly By Night, Caress of Steel, and 2112 plus the All the World's a Stage live set.
That kit is now up for auction. If you've ever air-drummed to the "2112 Overture," this is the kit you pretended to be playing.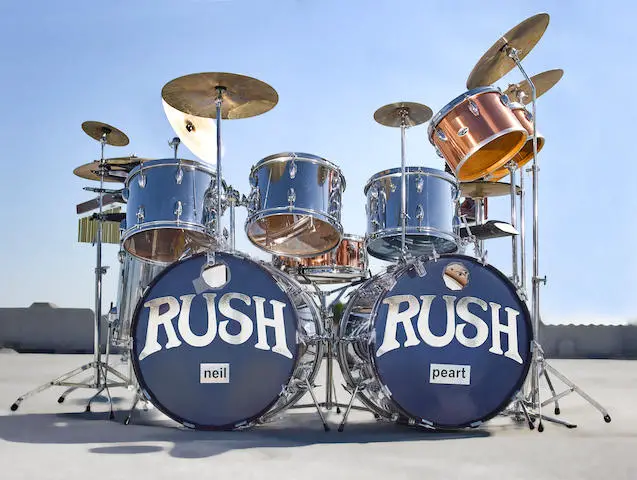 2 x 22″ bass drums
6″ tom
8″ tom
10″ tom
12″ tom (These four toms may have been added in 1977 and were not part of the original 1974. Still, they're here.)
2 x 13″ toms
14″ tom
16″ floor tom
14″ snare
8 x Zildjian cymbals (8-22 inches)
3 x cowbells
5 x temple blocks
2 x Ludwig pedals
a whole whack of hardware
The kit was put in storage in 1977 and stayed there until it was offered as a prize in a 1987 Modern Drummer contest which was won by Mark Feldman of New York. He later then sold it to its current owner. It's now back on the market.
UPDATE: Bonhams auctions took care of the sale yesterday (December 10). The expected selling price was between $100,000-160,000 (US$80,000-120,000) but it actually sold for US$500,312/$638,285 CAD. (Thanks to Jeff and everyone else who alerted me.)