A New Take on Using Your Smartphone in the Car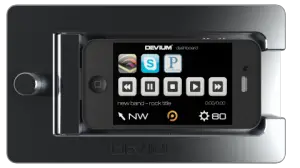 Most people who connect their smartphone to their car use some kind of cable connection. This works fine, but I keep thinking there has to be a better way.
My iPhone is always sliding around on the console or the passenger seat or getting wedged somewhere. Couldn't there be some kind of dock that holds the phone in a convenient place?
Dash is a good start down this road. It replaces the head unit in the dashboard. Simply click in your iPhone and it's exactly were you need it–plus you get all the functionality of the device at your fingertips. Plus your phone is charged as you go.
This isn't a perfect solution–there's no room in my cockpit for something like this–but I can see situations (and vehicles) where it's a practical option. Read more here.