A New War Child Compilation Featuring Canadian Indie Artists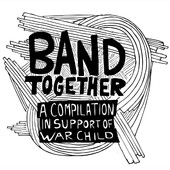 War Child, the organization that helps kids in some of the worst war-torn areas of the planet, is ready with a new compilation.
Band Together features previously unreleased material from nearly two dozen Canadian artists, rangning from Arkells and Rich Aucoin to Cuff the Duke and Morgan Cameron Ross.
And it's just $9.99. Give it consideration, will you?