A Note from Primus' Les Claypool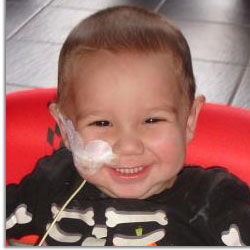 From a note to fans today:
A LETTER FROM LES…
Ahoy there all,
I just wanted to thank everyone for the support my nephew Matthew has received over the last year. It has been amazing how many folks have put forth the effort to help my brother and his family. Unfortunately, just at a time when he's learning to walk, little Matthew has had a major relapse and is back at Stanford Medical Center for treatment. To see what this little guy has gone through these last twelve months has been heart wrenching and to think he has to go through it again is just beyond comprehension.
Matthew will undergo an intense round of chemotherapy this month in the hope of getting his blood levels back to a status where he can receive a bone marrow transplant. As far as a donor, we have decent options within the family but there could potentially be a better match out there somewhere. If anyone is inclined, check out: marrow.org for information on how to see if they are good match for Little Matthew or others in the same terrible situation. It is a simple procedure to test and the program has saved a lot of lives.
Thanks again for the support,
Les Claypool