A Peek at the New Evanescence Album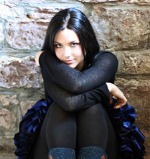 Amy Lee is awfully sweet. At a private listening session featuring tracks from the new album (it's self-titled, as far as I can tell) that came after a long day of press, she was bubbly and friendly, happy to chat with everyone in the studio about the new project.
A few minutes later, she and I were in the control room, listening to five tracks from the new Evanescence record at the volume of a 747 on its take-off roll. I was sitting behind a desk. Amy was prowling around the room, singing along, punching fists in the air. She's definitely proud of this work. After it was all over, we had a chat.
It is a dense record with big arrangements. VERY big.
"How many tracks were used in some of these songs?" I asked.
Amy thought for a moment. "The most we used was 190."
Gasp. "On ONE song?"
"Yeah, well, it's how we roll. The average is about 120. At one point, the engineer turned to us and said 'Uh, I'm gonna need another [ProTools] rig to handle this. Are you sure?' And I said, 'Dude, it's how we've always done things.'"
I digested this. "What about vocals? A big part of the Evanescence sound is how you multi-track your vocals."
"We do. There's the lead then a couple of harmonies doubled down here"–she gestures towards the floor–"and they're doubled higher up."
"So that's–"
"About ten tracks per lead vocal. Then there's the guitars. They're split through two Ampeg amps and doubled to make them nice and thick. Then you have to take into account the drums and the occasional string arrangements. Plus there's all kinds of programming going on–bass pedals, keyboards. And, of course, my piano."
No wonder it's been five years since the last album.
"What about the final mix?" I asked. "When you have that much going on, it must be a nightmare."
"It's tough," Amy said. "First, we record everything so it sounds glorious on the big studio monitors. Then we scale everything down so it'll sound good through smaller speakers and especially ear buds. Because let's face it. That's how most people listen to music these days. You have to find that trade-off point between what you can achieve in the studio under optimal listening conditions and how people are going to listen to the music in the real world. And the only way to do that by using compression."
"So we're back to 1968 when full-frequency studio recordings were mixed on crappy little speakers because that's the way most people were going to hear the songs–through a bad AM radio."
Amy smiled. "Exactly. But that doesn't mean it can't sound good."
Having heard five songs from the album, fans would be best served buying the CD so that Amy's work can be fully appreciated. This is one big-sounding record. Here's what I heard:
"What You Want:" Current single
"The Change:" A track that's being road-tested at various gigs this summer.
"The Other Side:" Chunk-a-riffic guitar. My favourite of these five.
"My Heart Is Broken:" Piano lead-in before all hell breaks loose.
"Lost in Paradise:" Amy displays stunning vocal control in the first section of the song, something she told me "required courage and self-confidence that I didn't have before."
The album will arrive on October 10 in two forms. The standard edition will feature twelve tracks while the deluxe version will have sixteen.
I wished Amy good luck with the record. She gave me a hug and was off to chat with someone else.