A Plea to Record Labels and Artists: PLEASE Get Your Metadata Sh*t Together
Back in the day, reps from all the record labels would descend on the radio station every Tuesday for meetings with the program director and the music direction. Along with pleas to add their current priority records to the playlist, they'd bring along all the new releases. This is one of the ways I managed to amass such a huge collection of CD and vinyl.
We still get visits from label reps but they appear less frequently and with less stuff thanks to email, texts and digital distribution of music. Where a station once might get a hundred new CDs in a week, it now gets four. Or less.
Music is now delivered digitally. In Canada, the most popular secure music delivery system is run by a company called Yangaroo and practically everyone received new releases using a program called DMDS. Labels, artists and managers upload digital music material to DMDS, point those files at individuals within the industry and voila! Seamless secure delivery. I just have to log on and all the new material chosen for me is automatically downloaded and plopped into a DMDS playlist in iTunes.
It's all very convenient–with one exception. Too many people who send out this music don't bother to include all the proper metadata with the files. Here's a screenshot from my DMDS playlist in iTunes.
In far, far to many instances, the music file arrives without all the metadata fields filled in. They can't even be arsed to fill in the name of the album of the single they're sending. And don't get me started on things like composer information, year, track number, genre and all the other fields that are available.
This is vital shit, people! Not only does it muck up our carefully maintained digital music libraries, we need this information if we're going to (a) evaluate this music properly; (b) catalogue it; (c) transfer it within all the departments that handle music; and (d) file reports to performing rights organizations. Metadata is our lifeblood.
FILLING IN DATA FOR YOUR SONGS–SONGS YOU WANT US TO PLAY–IS NOT OUR JOB!
Please, please, music industry: take metadata seriously. Don't be sending us songs without all the information we need. You're annoying us and hurting yourself.  That's why I urge everyone to invest in a copy of this book.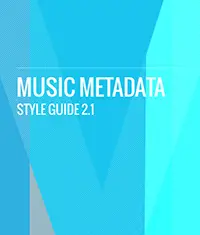 Not only does it underscore the need to filling out all the metadata fields in a music file properly, it also shows how to do it in a standardized way. For example, is it "Mumford and Sons" or "Mumford & Sons?" The difference is profound. Without a standard way of representing this band's name, you end up with the database creating two entries because it thinks that you're talking about two different bands.
What about "the" bands? Should you enter "THE Smashing Pumpkins" or just "Smashing Pumpkins?" If you use the "the," many databases will file the band under "T." That's stupid. Meanwhile, previous database entries made without the "the" will see another band created. It results in terrible database hygiene.
And now consider the unusual spellings that we see with hip hip titles. Please, people: do NOT take it upon yourself to correct any grammar, punctuation or spelling. The artist named the song. That's the title. Don't change it.
I hope this isn't fall on deaf ears. I'm trying to help, record industry. Really, I am. Now smarten up.