A Record Store Chain is Expanding. Wait–What?
According to FYI Music News, Sunrise Records–a chain that abandoned its iconic Yonge Street location in Toronto last year–is back on the expansion trail. The company opened its sixth store this past week, this time in Timmins.  It's not a big space–2,000-ish square feet–but it's nicely stocked with CDs, DVDs, various bits of merch and, of course, vinyl. Sunrise is also planning to launch an online store.
Meanwhile HMV–who is doing very well, thank you–is investing more into v2.0 (or is it 3.0? 4.0?) into their website.
Record stores aren't dead yet. They're just evolving. And vinyl has a lot to do with it. American figures show that while sales of digital albums fell 9.5% in 2014, vinyl sales were up 52%. Granted that vinyl still makes up a tiny, tiny part of the overall market, but it is the only physical format that's selling more year after year. See more graphics like the one below at Billboard.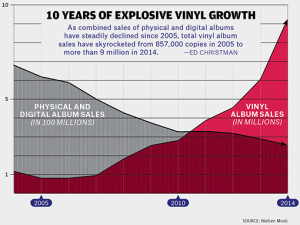 Another interesting stat: US figures show that 72% of vinyl buyers are under the age of 35. Maybe not what you expected, huh?