A Short History of Headphones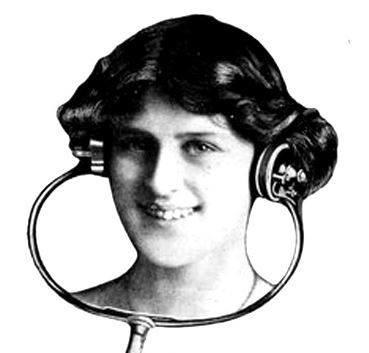 Chances are you have a tangle of earbuds and a pile of headphones sitting around someplace. Ever wonder how this technology evolved?
The people at Smithsonian offer this partial history of headphones. (Thanks to Steve for the link!)
It's nearly impossible to walk around a city or college campus or shopping mall, or really anywhere these days, without seeing at least a few dozen people wearing little earbuds stuffed into their ears, or even huge headphones that look like something a 747 pilot might wear.
The ubiquity of modern headphones could perhaps be attributed to the Sony Walkman, which debuted in 1979 and almost immediately became a pop culture icon. As the first affordable, portable music player, the Walkman became such an prominent characteristic of the young urban professional that it was even featured on the cover of The Yuppie Handbook.
But of course, the history of headphones dates back further than the 1980s. Like many commercial electronics, modern headphones (and stereo sound) originated, in part, in the military. However, there's not a singular figure or company who "invented" the headphones, but a few key players who brought them from military bases and switchboards into the home and out to the street.
Read more! It's fascinating.