A "Thinking" Speaker and Earbuds with Volume Knobs: News from the World of Consumer Electronics
Item 1: Meet the Aether Cone, a "thinking" speaker that not only learns your musical tastes but can prod you in a direction of discovery along those lines.  I've written about it before, but there have been some developments. From NPR:
Versions of this same story comprise my personal history with music algorithm technology. Many of my experiences letting a computer tell me what I should listen to have been spent feeling like I'm simply tolerating the results. But with its promise of "thinking things," Aether intrigued me. The 50-person, San Francisco-based company has just one product now — the $399 Aether Cone wireless speaker — and they plan to keep it that way until they've perfected the music player. What makes the hardware company stand out in a marketplace littered with free algorithm software is that the physical product tracks your listening habits in relation to time, date and location in your home. If you turn up or turn down a song, Cone tracks that too. Weather is likely the next variable tracked by the speaker. After all, you shouldn't have to tell your stereo that you only want listen to melancholy folk songs when it's raining.
You can read the whole story here. Intriguing.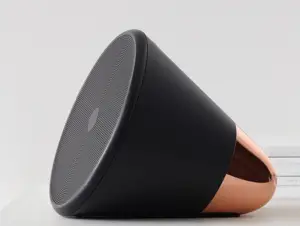 Item 2: Say hi to Here, a set of Bluetooth earbuds (well, sort of) by Doppler Labs that are more adjustable in terms of sound than anything else on the marketplace. From Wired:
Here is not a pair of headphones, and it's not a hearing aid. The earbuds are a way to customize your hearing. They're a way to turn down and perfect the volume of our ever-louder world. They're a way to make your commute a little more palatable, to make the concert sound as good in section 331 as in row 1. Most importantly, Here is the beginning of Doppler's long-term vision for "hearables," tech that lives in our ears—eventually, throughout every moment of the day.
For now, the pitch goes like this: The world is too damn loud. Put in the Here earbuds, and suddenly you have volume control and EQ for your ears. You can turn everything up or down, crank the bass, even selectively mute sounds you don't want to hear—the screeching subway, a crying baby. "Hearing is a human feature, and we want to make that awesome," Lanman says. "Just having a volume knob in your ears is amazing."
More on the story here.