A Tongue-Controlled MP3 Player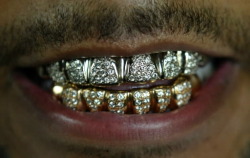 No, it's not something that might help Stephen Hawking enjoy his vast collection of Depeche Mode MP3s (he's a fan, I swear). This player is connected to the grillz rappers like to wear.
This useless invention is the product of Aisen Chacin, who plies his trade at the Parsons: The New School for Design in New York. Play-A-Grill is a combination of MP3 player and mouth jewellry.
To be fair, there's some interesting acoustic science here involving bone conduction, but that doesn't camouflage its sheer ridiculousness.