A Totally Off-the-Wall Theory About Musicians' Physiology: Blepharoptosis. Wait-What?
[Photographer Susan Andrews contacted me about something she noticed while shooting a couple of bands. I couldn't begin to give her an adequate answer, so I suggested that she write it all out and present it to you. Comments? Thoughts? Diagnoses? – AC]
A few weeks ago I attended HOPE Volleyball Summerfest at Mooney's Bay in Ottawa.  And what a day it was – sweltering hot, 25000 people in attendance (most in bikinis or shorts and little else). And five great bands played that afternoon: local bands Lemon Cash, Cast in Cadence and the Lionyls opened for the headliners: July Talk and the Sam Roberts Band.
And there I was, one of maybe two other people dressed in jeans and a T-shirt and packing a Nikon with my best lens up.  Because though I wanted to see all of the bands, I really wanted to shoot July Talk.  Leah and Peter are known for their onstage antics, and they didn't  disappoint.
Leah pounced on Peter's back, used a mike stand as a parasol, walked along the top of the security barrier, and got audience members to loan her their ballcaps; meanwhile, Peter – when not singing and playing guitar and keyboards and being Leah's foil – destroyed the two beachballs unfortunate enough to bounce his way, and promised to kill more.  Security was kept busy fending off beachballs for the rest of their set.  Their bandmates kept up with their antics and played a tight, strong set.
Then Sam Roberts took the stage, and it was great to finally see that band live.  Sam Roberts' pic should be in the dictionary next to the phrase 'stage presence'.  Cause he has in it spades, along with a great voice and guitar playing to boot.  Needless to say his backing band was competely rock solid.  That was easily one of the best live shows I've ever seen.
When I finally got home and downloaded the images from that long, hot day, I found myself noticing something in the photos of both Peter and Sam.  Before you read on, take a look at the two pictures.  (For those unfamilar with the bands, July Talk's Peter Dreimanis is in the white shirt and Sam Roberts is in the black.)  Take a good look at their eyes.
Both men have…*cue Twilight Zone theme*…blepharoptosis.
Blepharowhat?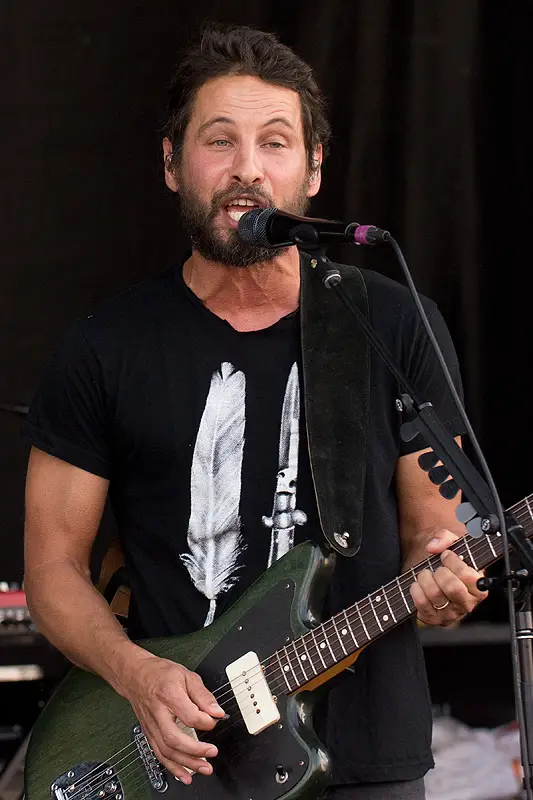 Relax.  Blepharoptosis, despite its kinda gross-sounding name, is just medical speak for a droopy eyelid.  Bedroom eyes.  Look at both their left eyes.  It's not uncommon at all; nor is the eyelift that many people undergo to fix it.   You can have it in either eye, or both.  You can be born with it. Certain diseases like diabetes can contribute to the likelihood that you will develop it.
You can also get it post-surgery.  Just ask Thom Yorke.  He has a very noticeably droopy left eyelid, attributed to a botched surgery which he underwent to correct a paralyzed left eye.  He was bullied at school for it, and I can't help but wonder how much of a role that droopy eyelid played in a song he wrote, where he refers to himself as 'a 'creep' and 'a weirdo'.  Of course, Creep was Radiohead's breakout hit. I am glad to see photos of him giving the camera a defiant stare, daring anyone to discount him now.  More tellingly, he hasn't had eyelid surgery, and I hope he never does.
Anyway, back to Mssrs Dreimanis and Roberts.  It seemed to be a strange coincidence that both men happen to have it, and probably is just that.  It sure doesn't detract from their looks; both men are unconventionally handsome.  But I like coming up with weird theories and tossing them out to the rest of the world.  Who knows, maybe some bored medical student will set out to prove if: Is there a link between blepharoptosis and musical ability, specifically songwriting?
So I opened Google Images, cracked my knuckles and set to work.  For arguments' sake, I specifically searched for acclaimed male singer/songwriters.  It was very, very difficult to find a female artist with ptosis, though Emily Haines of Metric is a definite maybe, apparently in the left eye.  Of course women are subjected to more demands on their looks, and they would quickly be taught to downplay or camouflage such a flaw.
I still had my work cut out for me.  I had to dismiss images where the artist was wearing shades.  And thank you, Jenny Lens, for having got photos of Joey Ramone without his huge mirrored aviators. (No, he didn't have a droopy eyelid).
Jenny Lens just happens to be a rock photographer of some renown, so I listened when she helpfully pointed out that many more male singer/songwriters didn't have a droopy eyelid than did. And she's right.  John Lennon, Bon Scott, Jimi Hendrix, Jim Morrison, Kurt Cobain, Sam Cooke, Mick Jagger, Mark Knopfler, George Thorogood, Trent Reznor, Billie Joe Armstrong, Matt Bellamy,Gordon Lightfoot, Bono, Aaron Bruno, Robert Plant, Marc Bolan, Alice Cooper…just a random sampling of some of the ones I looked at and found to be normal.
Back to the search criteria.  Most performance shots had to be dismissed due to strong stage lighting, or faces tilted down, eyes scrunched shut in concentration or  euphoria.  Long hair, guyliner, whether or not the subject looked drunk, stoned or excessively tired.  Thus exit the one pic of Billie Joe Armstrong where he looked like a contender – but it was a police mugshot.  Extreme expressions also had to be taken into account, like Johnny Rotten and his exaggerated eye-pops. Clean studio shots with the subjects looking relaxed were great to work from, if I could find them. Formal school pictures  and childhood photos if they were big enough and clear enough to show detail, were great.
Because apart from Thom Yorke, there are some very big hitters in the droopy eyelid club..  Elvis was well-known for his bedroom eyes, and yes, it is also more pronounced in his left eye.  Tom Petty is also a lefty.  Multi-instrumentalist/songwriter Mike Oldfield has it, albeit in his right eye, as does Lenny Kravitz.  Sir Paul McCartney has it in spades – in both eyes.  Some will remember that back in the day, Sir Paul was the Cute Beatle.
So there you have it. Just a little oddball coincidence. Or should that be eyeball?
Please feel free to make of this what you will, and have some fun with it.  There were legions of musicians that I didn't search; I chose mine mostly at random from radio airplay and my own music collection. If you think you've found something more, I'm sure Alan will be quite happy to hear from you.