A Very Early Interview with Nirvana at Kurt Cobain's House in 1989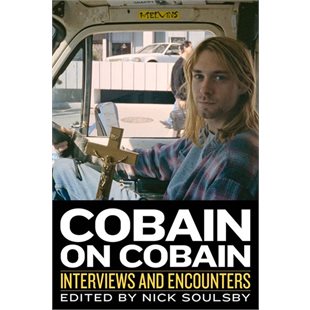 I don't have the book Cobain on Cobain yet–it was just published this week–but I'm definitely going to have to pick it up. This excerpt can be found at Medium.com.
April 22, 1989
The first time I saw Nirvana was at the HUB Ballroom in February of 1989. I had second-degree burns on my hand, which was all bandaged up, and I was heavily medicated. I went to the show with a group of friends and promised I'd stay in the back, away from the crowd, and most certainly out of the mosh pit. But the pull of Nirvana's performance — the perfect mix of ear-candy pop and raw angst — was too much for me to resist. I soon found myself standing right in front of Kurt Cobain, marveling at his immense stage presence while clutching my injured hand to my heart as if pledging my allegiance. I was certain he was seven feet tall.
And I had a new favorite band.
I interviewed all four band members at Kurt's house in Olympia for theCurrent, Green River Community College's student newspaper. I was barely seventeen, had only two interviews under my belt, and truly didn't know what the hell I was doing. The band actually asked me if I'd done an interview before, then gave me a tip for recording group interviews. We sat in Kurt and Tracy's [Tracy Marander, Kurt's girlfriend] living room, and the television was playing heavy metal videos with the sound off. Occasional non sequitur comments were made about the videos throughout the interview. Despite the sometimes sardonic answers the band members gave me, they were very kind and said it was probably their best interview to date. I kept in touch with Kurt after the interview, and when he found out how young I was, he said I should write a book about my life story. Oh, the irony.