A Way to Share Playlists Wirelessly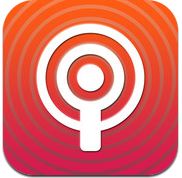 It's called MyStream. If you'd like to check on what horrible musical taste your friend has, you can jack in to his/her iPhone/iPod touch (providing you have permission, of course) via WiFi or Bluetooth. No sharing headphones that have been in someone else's sweaty ears, no physical connections.
And not only can music be streamed device-to-device (providing you're within range, of course), but there's Facebook integration and the option of creating new personal profiles.
MyStream is up to v1.3. You can try it free here.