Adult Entertainment for Radio? Yep. Welcome to fluffertraX.
Let me clarify that: it's "adult entertainment" music–as in soundtracks FROM the "adult entertainment" films you'd be likely to see online, NOT the porn audio itself. Called fluffertraX (that's the preferred spelling), this commercial-free Austin, Texas-based Internet radio station features "the very best" music from adult films. That may be a bit of an oxymoron. "Best" and "adult entertainment music" don't really go together.
Besides, who notices the music? And if you have, has it ever been any good? But fluffertraX has been around for fifteen years. Even iTunes offers it for .99.
Curious, I called it up on TuneIn Radio and the first thing I got was what sounded like the audio from a weird trailer. Once that was over, it segued into something that sounded like it could have come from any of the films they made in Boogie Nights. Turns out the piece was called "Bodacious Bongos." Next up was an instrumental called "Hard Organ"–which, by the way, featured a Hammond organ part that would make Booker T. proud. It was followed by a piece of electronica called "I Like to Watch."
Try it yourself by clicking on the image below. Just be aware that some of the music comes with, er, dialogue so it might not be entirely SFW. You takes yer chances. While you're listening, read this interview with the station's founder.
Rule 34 invoked yet again.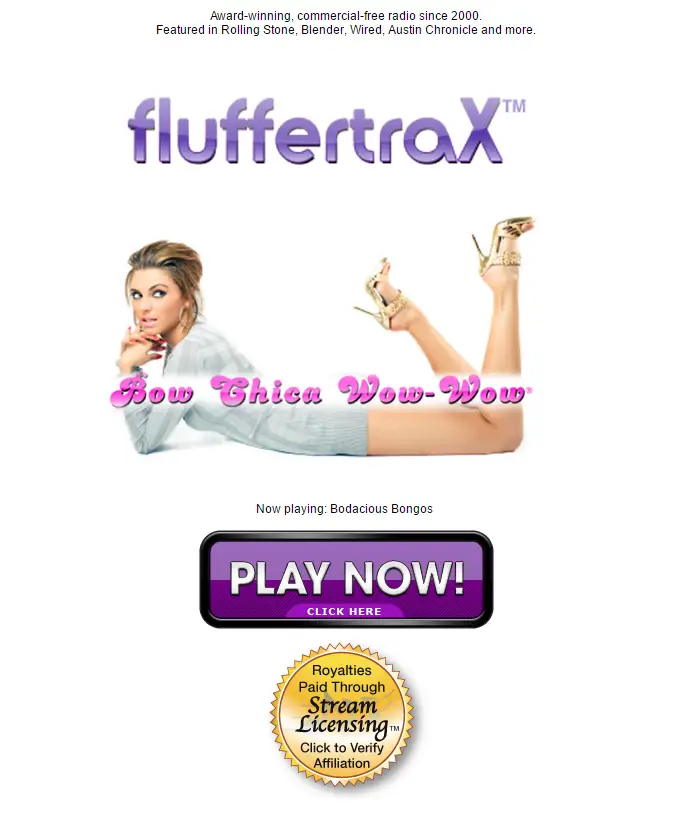 Thanks to Peter for the link. I think.