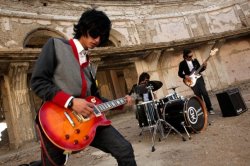 Afghani rock band Kabul DreamsThis has to be taken as some kind of progress. Afghanistan had its first rock festival in three decades and no one was blown up. (I'm not being facetious. The location of the show was kept secret until the last second lest any insurgents had any suicide bomber ideas.)
They calleded it Sound Central and featured local bands as well as artists from Kazakhstan, Uzbekistan and Australian (the event was organized by an Australian photojournalist who invited some friends). The venue was Babur Gardens in Kabul.
Attendance was sparse–about 500, both men and women–but this achievement cannot be under-appreciated. Remember that when the Taliban were in control, they banned music. Not just rock music, either. ALL music. Anyone found with so much as a homemade mixtape was subject to beatings, imprisonment or worse.
Nikita Makapenko, the guitarist for an Uzbek band called Tears of the Sun, was quoted by Reuters: "Rock and rill will change the world and we hope it will change Afghanistan, too. This is historic and it's just the beginning."