After months of waiting, I finally got my invitation to Bluesky Social. Should I join up?
Remember Bluesky? It's the short message social media program launched by Jack Dorsey, the co-founder of Twitter. The first employees were hired about two years ago and has been enrolling users on an invitation-only basis beginning last October.
Somewhere between the time Elon Musk bought (and started destroying) Twitter and the introduction of Threads by Mark Zuckerberg, I applied for an account. I don't remember the exact date, but it must have been last winter–probably in February when the iOS version launched. Today (August 30), I finally got my invite code. That's how long the waitlist was.
Bluesky has seen a steady increase in usage. Here's a graph I found on Wikipedia.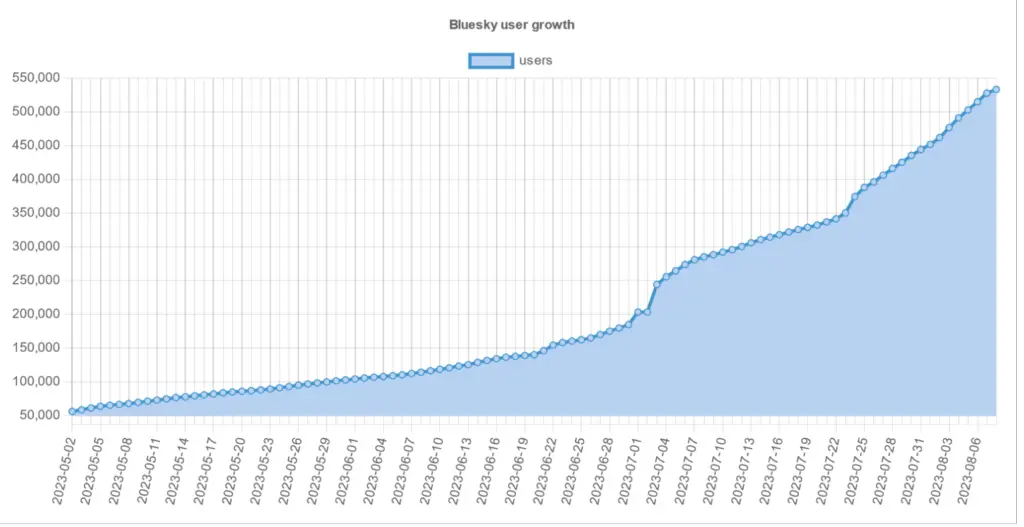 The current number (at least as of August 28, 2023) is 777,734. Three-quarters of a million signups isn't much, but given the slow rollout because of the invitation-only process, it's not surprising. Still, compare that to Threads that bragged about signing up a million users a week after it launched.
Bluesky is supposed to be different, a better, more evolved social media messaging platform with open source code. But do I really need ANOTHER place to post? I'm already locked into Twitter X, Instagram, and Threads. I dabble every-so-lightly in TikTok. Plus I still check in with a couple of Facebook accounts occasionally. What's the advantage of getting involved with Bluesky?
Oh, to hell with it. I'll sign up so you don't have to. If you're already on Bluesky, you can find me at @alancross.bsky-social. And if you have any tips on using the platform, let me know through [email protected]