After the Grammys, Where Does Indie Music Go?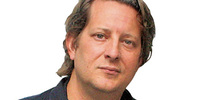 [This is my column from this week's Metro newspapers. The column appears every Friday in most issues across the country. – AC]
When Justin "Bon Iver" Vernon began writing his second album, he didn't set out to win a Grammy. Out there in Wisconsin, he simply wanted to document the feelings in his heart. Maybe a few people would be interested enough to buy his music and then come out to a gig or two.
Imagine, then, what must have been going through his mind last Sunday night. Vernon is about as indie as they come in sound, style, aesthetic, attitude, history and image. His two wins at the Grammys demonstrate how, after years of being on the outside, indie music is now receiving mainstream attention.
And let's not forget that Adele is an indie artist. Yes, 21 is distributed by Columbia Records, a division of Sony, but she's signed to XL Recordings, which is a department of Beggars Banquet, a British indie label with roots that go back to 1973.
For those who thought last year's Grammys was a fluke — wins by Arcade Fire and the ascent of Mumford & Sons to platinum-selling status — are either really pleased or really scared by these developments.