"After This Week, Whitney Houston Will Disappear from the Airwaves"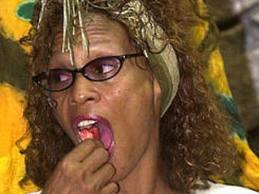 That's a quote from Tom Kent, an American broadcaster who has some pretty strong opinions on the legacy of Whitney Houston. Here's more:
The reason why Whitney will never be a 'classic' artist is because the record labels designed her music to be disposable. It was mostly synthesized and had a high burn factor, setting the stage for the next Whitney single. It was brilliant short-term marketing of one of the most gifted performers of our time, but the long-term effect was that her music has not stood the test of time.
Fightin' words, huh. More here.
I agree with Tom. When a friend texted me with the news last Saturday night, one of the first things I thought was "Wow, I haven't even THOUGHT of Whitney Houston for years!" And judging from some record sales figures, neither had a lot of people.
As I point out in this week's music sales report, Whitney sold more albums Saturday night and Sunday than she did for all of 2011 and 2012 combined. Unlike Michael Jackson, she wasn't a steady seller nor was she on the same superstar level as he was. There's going to be a huge spike in sales and attention for a week and then things will go back to normal.