After two years of teasing, Spotify's "Car Thing" is on sale. Sort of.
Back in 2019, Spotify starting making news about a piece of hardware they called "Car Thing." The device mounts somewhere in your vehicle and uses the new "Hey, Spotify" vocal commands. It has a big touch screen and a single rotary knob for scrolling through music and podcasts.
In a move reminiscent of the old aftermarket satellite radios, it comes with three different mounts so you can find the right place for it. You then pair it with your smartphone. The images on the screen can act as presets in the same manner as a radio. Content can be downloaded so you can listen offline, thereby saving on data costs.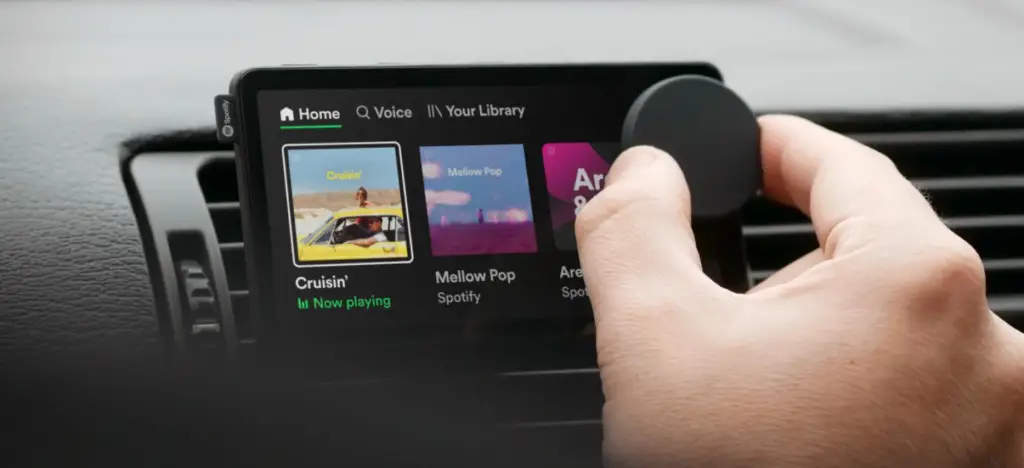 Car Thing had been in beta testing with a number of US users for a while. It went on sale yesterday (April 13) on an invitation-only basis. The company insists that the new hardware is meant to augment existing infotainment systems rather than replace them. Then again, if you have Apple's CarPlay or Android Auto, Spotify access is already built-in, so there's no need for Car Thing.
So who's this for? Spotify users without a modern infotainment system, I guess. Spotify is also dependent on other manufacturers to include their service in dashboards, so this is something of an end-run around that. In other words, it solves a problem for Spotify instead of solving a problem for consumers–a problem that might not even exist.
Given that this is Spotify's first piece of hardware, expect things to evolve substantially.