I Agonized Over Which iPhone to Buy. Here's How I Decided.
The new iPhone 6 is available for pre-order today and because I'm a gadget idiot–I need a 12-step program for this issue–I'm determined to get me one. But which size? The 4.7-inch iPhone 6 or the 5.5-inch iPhone 6 Plus?
First, I downloaded this handy comparative template and then grabbed last night's pizza box.  I figured two layers of cardboard approximated the thickness of the new devices.
Here's what I ended up with: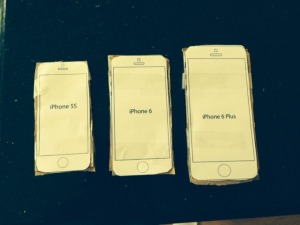 Then I tested them. First, the hand-and-head test with the 5S.
Then the 6…
…and the 6 Plus.
Now the pocket test, beginning with the 5S…
…followed by the 6…
..and the 6 Plus.
Hmm…
I think I gotta go with the 6. Outside of the camera (the 6 Plus has some crazy image stabilization functions), it's the same device. It fits in my hand just fine–the 6 Plus feels awfully big, even for a 6′ 1″ guy–and I know it's going to fit in my jeans.  When I tried the 6 Plus in my pants, it honestly felt like my thigh was splinted, especially when I moved to sit down.  Then my wife said "Is that a 6 Plus in your pocket or are you just happy to see me?" This would NOT work in any snug-fitting trousers.
Meanwhile, the 6 felt fine in my hand and the screen seems to be big enough. My prototype renderings point to 4.7 inches being some kind of sweet spot.
So the 6 it is.  I hope I don't regret this…