Have AirPods? Here's a Creative Way to Prevent Theft.
Anyone that I have talked to who own Apple's wireless earbuds, called AirPods, absolutely love them. They sync flawlessly with your Apple devices, they sound great, and you don't have to worry about annoying cords getting tangled. But at $219 (Canadian), they're not exactly cheap. If you lose your AirPods or the charging case, it costs $89 each to replace.
So, how are people attempting to prevent potential thieves from stealing their AirPods? According to Mashable, with the similarities between the charging case and packages of dental floss, "some AirPod users have begun creating stickers to deter would-be thieves from rolling them for their expensive wireless headphones".
Check out these DIY disguises.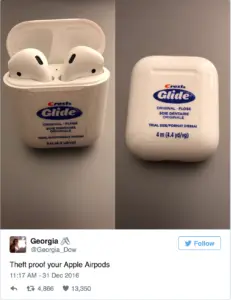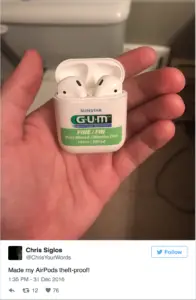 You can even buy pre-designed stickers on Etsy for less than $10. Just make sure you don't accidentally throw out your AirPods because you thought they were an old pack of floss!